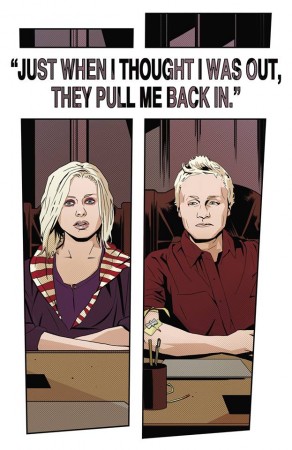 "iZombie" Season 2 is all set to return from midseason break on 2 February when the next episode titled "Fifty Shades of Grey Matter" will be aired on The CW.
TVOM has reported that The CW has released new photos and descriptions of the upcoming episode that give a better insight into what the fans can expect from the second half of Season 2.
The website has also hinted at a possible reunion between Ravi and his former love interest, Peyton, as Ravi asks for assistance to Peyton in a particular difficult case. Whether the two will be back together or not, will be seen only in one of the upcoming episodes.
The synopsis of the upcoming episode has already confirmed that the story will deal with Liv's adventures after she consumes the brains of an erotic writer.
According to TV.com, Liv and Clive investigate the murder of a young librarian who was a secret erotic fiction writer. Meanwhile, things take an unexpected turn as Blaine is visited by a mysterious stranger and Major is hit with an unforeseen snag in his plan.
In the previous episode titled "Method Head", Ravi explained to both Major and Blaine that the cure is only temporary and they will, sooner or later, revert to zombies without more of the cure, so they needed to dig for the murdered drug couriers with the tainted utopium inside, without success.
Meanwhile, Clive and Liv investigated a murder on the set of Liv's favourite zombie TV show. With Boss' organisation hit by the DA, Blaine's funeral-brain delivery business was running well, but Dale was investigating against him and began to make the connection to Meat Cute.
Also, Vaughn prepared a complicated test for Major's allegiance, which Major passed, yet in reality he was secretly spying on Vaughn.