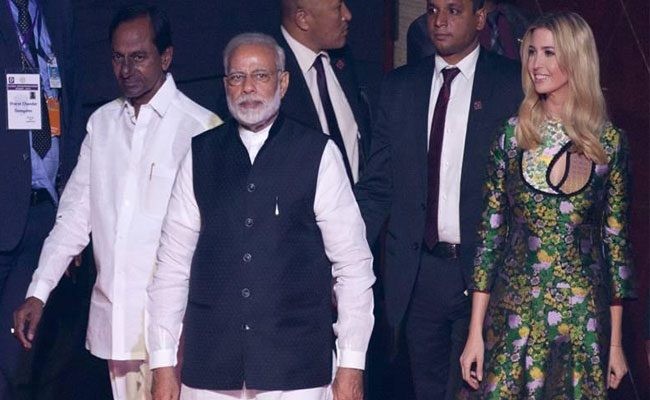 Ivanka Trump, the daughter of US President Donald Trump, has thanked Telangana Chief Minister K Chandrasekhar Rao for his hospitality during the Global Entrepreneurship Summit (GES) in Hyderabad.
Ivanka Trump had headed the US delegation at the Global Entrepreneurship Summit in November. She also took part in panel discussion on the importance of workforce development and skills training, which was moderated by none other than Chandrasekhar Rao's son, Telangana IT Minister KTR aka KT Rama Rao.
Prime Minister Narendra Modi hosted a dinner for Ivanka Trump at the famous Falaknuma Palace Hotel in the city. On this occasion, K Chandrasekhar Rao had presented an exquisite gift to her.
Now, almost a month after the summit, Ivanka has written a letter to Chandrasekhar Rao. In this letter, she has thanked the Chief Minister for his hospitality and gift.
Ivanka Trump wrote: "Dear chief minister Rao, Thank you for your warm hospitality during my visit to Hyderabad for the GES summit. It was an incredible and inspiring experience. I also want to thank you for the exquisite gift that you presented to me at the Falakhnuma Palace. I am deeply touched by your thoughtful gesture and by the warmth of the people of Telangana. I look forward to returning to India in the near future. Warmly, Ivanka Trump."
During her visit to the city in November, Ivanka Trump had hailed Hyderabad's legacy -- biryani, pearls, Satya Nadella (Microsoft CEO), T-Hub (or Telangana Hub) and tea. "It's wonderful to be in this ancient city brimming with transformative technology – now, your tech centres may even outshine your world-famous biryani," she had said.