Ivanka Trump was in New York to support her father and POTUS while he delivered his first speech at the United Nations General Assembly on Tuesday, September 19.
After the UN visit and the press interviews, the first daughter decided to take a break and paint the town red with her chic style.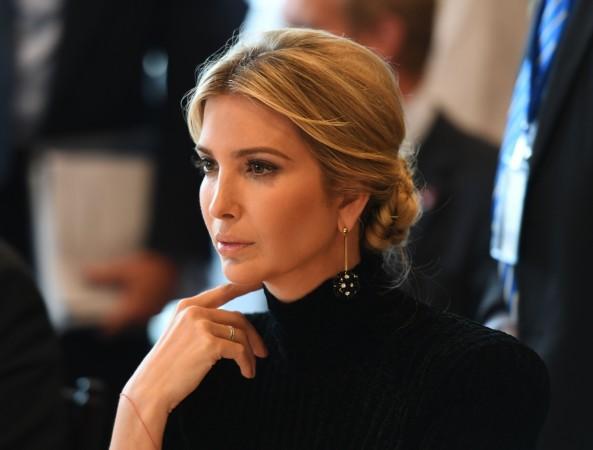 The 35-year-old ditched her formal clothes for the evening and donned a glamorous outfit for a fun evening in her former hometown. She was caught by the paparazzi outside her apartment in NY heading out with husband Jared Kushner.
Also Read: Ivanka Trump to visit India for Global Entrepreneurship Summit in November
Turning towards a monochrome ensemble, Ivanka decided to don a black-and-white cold-shoulder dress that let her show some skin. While the dress helped her look like a diva, it was the bold red lipstick that stole the show.
Nearly pouting for the cameras, Ivanka looked like an NYFW model on the streets of the Big Apple.
Letting her tresses feel the evening breeze, she chose to leave her blonde locks fall off her shoulder. Her pearl-looped earrings made sure they were visible amidst her wavy hair.
She tiptoed on a pair of red footwear that matched her lipstick shade. To complete the look, Ivanka sported a sleek black clutch as she walked past the cameras.
She made the glamorous appearance hours after she sported a gorgeous cream-coloured skirt with black embellishments. She paired the attractive skirt with a black turtleneck and black ankle-strap heels.
The mother of three appeared on The Dr Oz Show recently, and revealed she had struggled with postpartum depression after giving birth to each of her three children.
"It was a very challenging emotional time for me. I felt like I was not living up to my potential as a parent, or as an entrepreneur, or as an executive. I had had such easy pregnancies that in some ways the juxtaposition hit me even harder," she told Dr Mehmet Oz on the show.