A slew of comic book adaptations made it to the big screen last year. However, there were two that stood out and created the Oscar buzz: Logan and Wonder Woman.
Released in March 2017, the X-Men movie saw Hugh Jackman take a final run as the Wolverine. It received only one nomination. But a bigger shock came in the form of Wonder Woman. The Gal Gadot-starrer was one of the most talked about movies of 2017 but did not receive any nomination.
Also read: Why Wonder Woman might get Oscar nominations but not win Best Picture
Logan:
With its sole nomination, Logan has made history at the Oscars. The R-rated movie has become the first superhero movie to have been recognised in the category. But this recognition is not enough for the movie, fans believe.
Several fans took to Twitter and stated that Jackman and Sir Patrick Stewart deserved to receive a nomination at the Oscars.
Here are a few reactions:
If Get Out wins an award for best picture when you have masterful works like Logan, Blade Runner 2049, and John Wick 2, then I can really only stress that the Oscars are completely illegitimate and shouldn't be taken even halfway seriously.

— The Dishonoured Wolf (@DishonouredWolf) January 23, 2018
If they added a comic book superhero category to the Oscars, we'd have a tough race between Logan, Thor: Ragnarok, and Wonder Woman that people would actually care about.

— Frank J. Fleming (@IMAO_) January 23, 2018
even the fact that Logan (a much more deserving film) getting ONE nomination is being called a "surprise" and a "milestone" is big proof that the Oscars are fucked, so why would a decent comic book movie with a lackluster third act recieve anything

— ボブ (@weeabob) January 23, 2018
Logan deserved a lot more awards than it was nominated for. Have no idea why Hollywood still cares about the Oscars. The awards are a farce. Many "Best Actors" don't even have careers after a few years and "Best Movies" are all but forgotten very quickly.

— Juston Daniel (@JustonDaniel) January 23, 2018
Wonder Woman: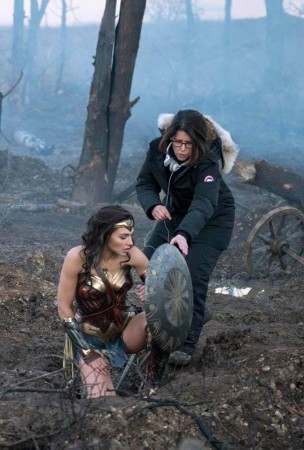 Not a single nomination for the Patty Jenkins directorial stunned several online. The DCEU movie not only won the summer box office with its surprising run, Gadot and Jenkins' efforts are being recognised by several other awards shows including the Critics' Choice Awards, SAG Awards and more.
If not for the top five categories – Best Picture, Best Actor, Best Actress, Best Actor in Supporting Role or Best Actress in a Supporting Role, fans pointed out that Jenkins should have been considered for the director's category and the movie should have found a place in other technical awards categories.
Here are a few reactions:
Bummed by the complete lack of nods for #WonderWoman. A landmark in its genre, a comic-book movie that represented a moment. As much a cultural phenomenon/talking-point as any film this year. #Oscars #OscarNoms

— Christian Blauvelt (@ctblauvelt) January 23, 2018
I said Wonder Woman got completely snubbed and the response is "what could it possibly have been nominated for". Can we at least agree the costumes and production design were great? It's a WWI movie and they nominate historical films all the time. It wouldn't have been weird.

— William Bibbiani (@WilliamBibbiani) January 23, 2018
The Oscar snubbed also reignited conversations about how several well-made superhero comic book movies are looked down by The Academy.
Watched Logan for the first time since the cinema, it's a shame how the academy looks down on comic book movies, because @SirPatStew and @RealHughJackman should both get Oscars nominations for it. God damn superb performances.

— Alan Heath (@AlanJamesHeath) January 14, 2018
Why do the Oscars continue to disrespect superhero movies? At this point, it's the only reason we go to the movies. Wonder Woman and Logan deserved more

— Ashley K. (@AshleyKSmalls) January 23, 2018
Speaking of other superhero movies, Guardians of the Galaxy Vol 2 has been nominated under the best visuals category.