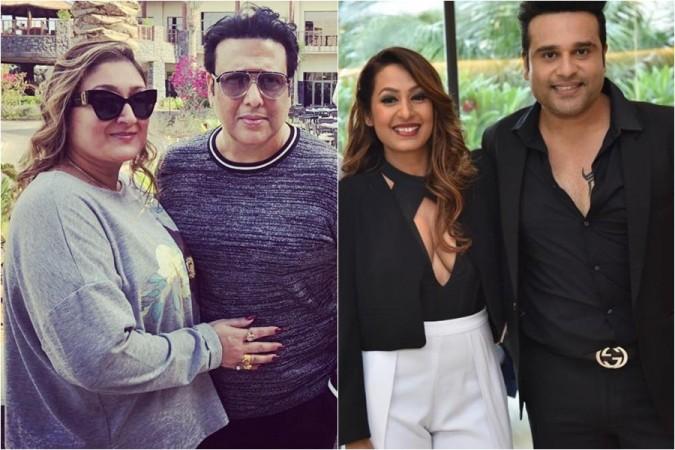 It's over between Govinda and his nephew Krushna Abhishek. The former's wife Sunita Ahuja has confirmed that their family has broken all ties with Krushna Abhishek and wife Kashmera Shah once and for all.
A couple of years ago, Krushna had apologised to Govinda for hurting him with his remark, "maine Govinda ko mama rakha hai" in an episode with Shah Rukh Khan. Govinda then didn't speak with Krushna properly for the next few months.
Govinda had refused to appear on Krushna's show and instead chose to shoot an episode for The Kapil Sharma Show, hosted by the latter's rival Kapil Sharma. However, it was Govinda's wife Sunita who played the peacemaker between the two and it looked as if things were finally back on track. But their relation has now gone up into the smoke.
"Krushna's claim to fame has always been the fact that he is Govinda's bhanja. He has milked that enough. He has lived with us for years and we have always loved him. It's a shame that they talk rubbish about us behind our back," Sunita Ahuja told Bombay Times and further added, "We have distanced ourselves from them and it won't change ever."
Govinda and Sunita's absence at Krushna and Kashmera's twins Rayaan and Krishaang's first birthday party on June 3 had raised many questions about their souring relationship between the two families. The couple had welcomed twins via surrogacy last year.
When Sunita Ahuja was asked why they didn't attend the birthday celebration, she revealed that they were not invited and have not seen Krushna and Kashmera's kids to date. She also regretted trying to help Govinda and Krushna patch-up after his derogatory remark against her husband.
"Govinda and I were in London on that day (June 3), but that wasn't the only reason why we didn't attend the party. We were not invited to it and even if they had, we wouldn't have gone. I have not seen his kids till date because of their parents' misbehaviour. We have broken all ties with Krushna and Kashmera, and I swear I won't initiate a patch-up this time around. I was a fool to do so two years ago. Govinda was right about them. It was my mistake that I thought that we should give them another chance," Sunita Ahuja said.
When asked about why their relationship came to this point, Sunita said, "About six months ago, on Krushna's insistence, Govinda and I went on his show (The Drama Company). Since we are also fond of the show's producers, Preeti and Neeti Simoes, we agreed. All was well until Kashmera had the audacity to slyly write rubbish about us on social media, soon after that appearance."
"She referred to us as 'people who dance for money' in that post. Even if we were paid for that appearance, it was none of her business. Almost every Bollywood celebrity charges for appearances on TV shows. Plus, she is not the one who paid us."
"I don't know if she has deleted that post now, but most of our relatives and family friends read it back then. Krushna claims that the post was meant for his sister Arti, but how come it was put up soon after we appeared on his show? She was nowhere in the picture! He is Govinda's bhanja and this is how they treat us! I was the one who convinced Chi Chi to go on his show. Henceforth, we have nothing to do with them."
She further added there is no chance of a reconciliation as Kashmera's nasty comment and lies have deeply hurt them.
Even Krushna is in no mood for a patch-up and says that Sunita has influenced the family to an extent that now even their children (Tina and Yashvardhan) don't talk to them.
In response to Sunita Ahuja's statement about Krushna using Govinda's name to make his career, the comedian lashed out, "Has he launched me? Does he perform on my behalf for me? Then I would have been indebted to him for life."
Krushna adds, "If they feel that I have cashed in on his name to make a career, then mama has several nieces and nephews. Where are they? It's appalling to see them even make such claims. Yes, there is no denying the fact that he has helped me on the personal front when I was young. He has even given me money. But I have made a career through sheer hard work."
"I feel bad, especially because I have always loved and respected them. I have stayed in their house for six years and Sunita mami has treated me like her own child. However, I am fine if things are not resolved now. They know what they mean to me and nothing can change that."
Speaking about getting hurt by Kashmera's social media post, Krushna further revealed, "Sunita mami and Kashmera have not been on talking terms for years. The very night they came on my show, mami called up Kashmera and brought up a previous incident and started scolding her. The next day, she sent me a text message asking about Kashmera's social media post."
"In reality, Kashmera's post was directed at my sister Arti (Singh). Mami mistook it for Chi Chi mama and herself. I tried to explain to her that it wasn't about them. How can we write anything against them? Hamari koi aukaat hai jo hum unke liye kuchh bole? Govinda is a superstar. I told Kashmera to delete the post and apologise to mami even though it wasn't meant for her. But they just wouldn't budge. Thereafter, I realised that there was no point trying to patch up."
While Sunita said that they were not invited for the birthday party, Krushna said that he invited Govinda's family but feels that they planned their trip in a way that they could skip the celebration.
"Forget that, they didn't even come to see Rayaan (one of his twins) when he was battling for his life in the hospital. I was hurt. My mother literally brought up mama, a fact even he acknowledges. Does it then not deem fit for him to visit my kids?" Krushna asked.