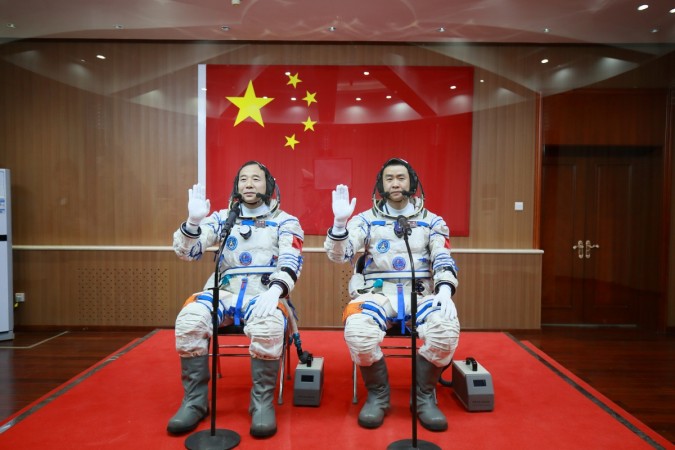 Chinese astronauts Jing Haipeng, 50, and 38-year-old Chen Dong are on Shenzhou-11, the country sixth manned space mission, for a 30-day trip. While Haipeng has already been to space twice, this is Chen Dong's first trip. It looks like Dong was completely blown by what he saw in space. So, what was his first reaction when he was out in space?
The banter between the commander and the astronaut was released by Xinhua and it's very cool! Here is the transcript that the agency shared:
Chen Dong: Wow, spectacular!
Jing Haipeng: Feels cool, huh?
Chen Dong: Absolutely beautiful!
Jing Haipeng: I mean, is it cool?
Chen Dong: OH, yes, definitely cool!
Shenzhou-11 was launched from Jiuquan Satellite Launch Center in Jiuquan, in northwest China's Gansu Province on October 17. The mission's main objective is to dock with the Tiangong-2 space laboratory and gain experience from a 30-day residence, and to test its life-support systems. The Tianzhou 1 cargo vehicle will also dock with the station to deliver supplies.
Who is Chen Dong?
According to Chinadaily, Chen Dong was born in a working-class family in Luoyang, Henan province. He is stated to have been a naughty boy as a school kid as he was always up to some mischief. It's reported that when he was in third grade he stomped on the vegetables (which were a gift to the teachers from the school) to make his friends laugh. However, Chen Dong went on to become the class monitor. It was 13 years ago as a combat pilot that his space dreams took a new direction. He applied to become an astronaut and in 2009 he was selected in China's second batch. And on October 17, 2016, his dream to fly into the space came true.
Who is Jing Haipeng?
Jing Haipeng is a pilot and astronaut, who hails from Shanxi province in north China. This is his third trip to space. In 2005, he was part of the Shenzhou-6 mission and in 2008, was one of the astronauts on China's Shenzhou-7. In 1998, he was selected to be a China National Space Administration astronaut. He has stated that he is looking forward to China's space station that is set to come up by 2020.