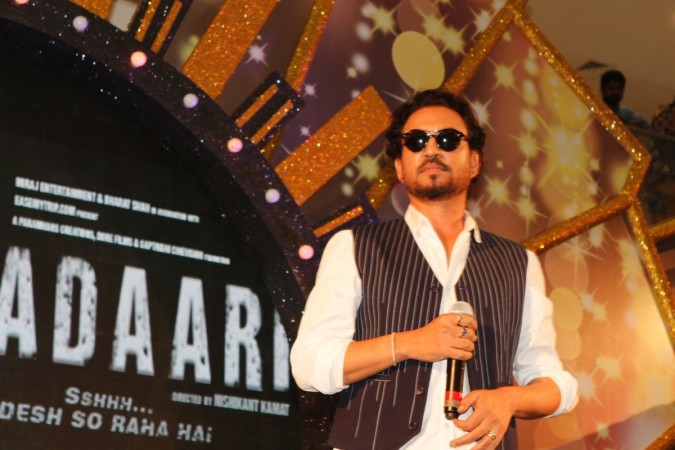 Bollywood actor Irrfan Khan, who was slammed for his comment on "Kabali" poster being similar to "Madaari," told International Business Times India that his statement was just a joke and he didn't mean anything. Irrfan was in Bangalore on Saturday for the promotion of his movie "Madaari" when he spoke about the comment and what he feels about superstar Rajinikanth.
"I really respect Rajini sir, not just as an actor but also as a human being. It just you know, we were in a mall and I joked about it saying that the posters are similar. Also, the comments on these on social media get twisted, which creates more controversy," Irrfan said.
When asked whether his comment will affect "Madaari" collections at the box office or not, especially in the Southern region, he replied, "I don't know about that, but one thing is that I respect him."
"Madaari" was earlier expected to clash with Rajinikanth's much-awaited film "Kabali" at the box office on July 15. Though the release of "Kabali" is likely to be postponed, Irrfan said it will be an honour to release a film with superstar Rajinikanth's film.
"I will be happy if films will hit screens on the same day and we will come in theatres on the same day. It will be a great honour for me if 'Madaari' and 'Kabali' will release together," he added.
"Madaari," directed by Nishikant Kamat, is a social-thriller drama starring Irrfan, Vishesh Bansal, Jimmy Shergill, Tushar Dalvi and Nitesh Pandey in important roles. "Madaari" is the first release of Irrfan this year.
The film is reportedly based on a real-life incident, that took place at the under-construction overhead Metro bridge in Mumbai's Marol area. "Madaari" is scheduled for a July 15 release worldwide.