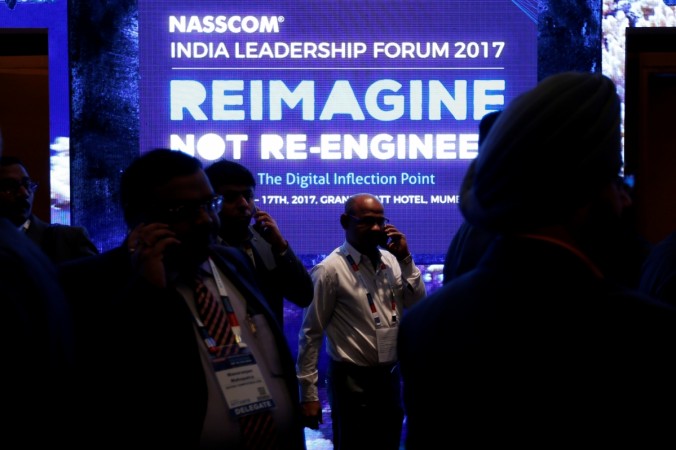 India's once-thriving IT software services sector is projected to grow at a lower clip in the current financial year as compared to the preceding fiscal, though there is some reason to cheer for job-seekers. In its projections released on Thursday, Nasscom, the industry body, said that the sector's exports would grow at 7-8 percent, marginally lower than the 8.6 percent growth in 2016-17.
In value terms, exports are expected to reach $125 billion in 2017-18 from $116 billion clocked in fiscal 2017. The domestic business is projected to increase by 10-11 percent.
Read: Nasscom could give a projection of 6-8% for FY 2018, says Nirmal Bang
The industry is expected to create about 1.3 to 1.5 lakh jobs in 2017-18, lower than the 1.70 lakh jobs added in the preceding fiscal.
The details were given by Nasscom president R Chandrasekhar in Hyderabad on Thursday.
"The guidance is broadly in line with the outlook given by the Industry players and hence holds no big surprise," Sarabjit Kour Nangra, VP Research- IT, at brokerage Angel Broking, said in a note.
Infosys, TCS and Wipro were trading with gains at around1.35 pm on Thursday, apparently in response to the projections. Infosys was up 1.46 percent at Rs 957, TCS was trading marginally higher at Rs 2,409 and Wipro was almost flat at Rs 257.
The Sensex was up 192 points at 31,475.
Nasscom had earlier played down the adverse impact of revised H-1B visa norms. "The March 31 USCIS memorandum reinforces an existing practice by adjudicators and clarifies requirements for certain computer professionals," Nasscom had said in a statement in April.
"Our member companies provide skilled talent and solutions to US firms. The H-1B visa system exists specifically because of the persistent shortage of highly-skilled domestic IT talent in the US," the statement added.