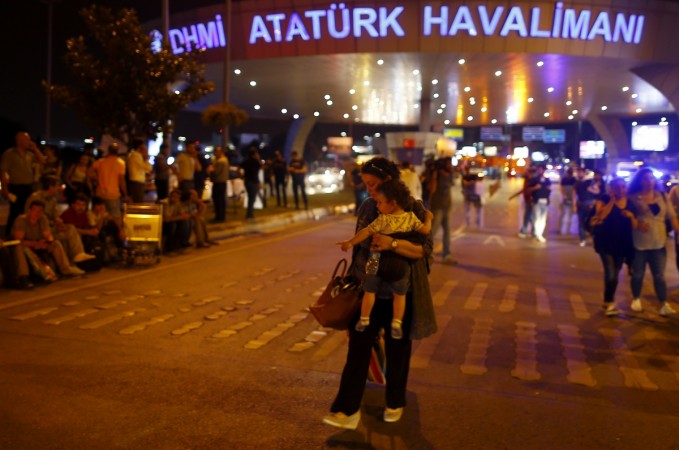 Accounts of witnesses and survivors are pouring in after three suicide bombers attacked the Istanbul Ataturk Airport in Turkey on Tuesday night. The terror attack killed at least 36 people and injured 147 others.
Hundreds of passengers and their family members ushered into the cafeteria, shopping malls and other safe places after gunfire and explosions echoed in one of Turkey's busiest airports. Describing the horrifying incident, Judy Favish, of South Africa, told the AP that she along with other passengers hid under a counter to escape the attack.
"We came up from the arrivals to the departures, up the escalator when we heard these shots going off," Paul Roos, a tourist from South Africa, told the AP. "There was this guy going roaming around, he was dressed in black and he had a hand gun."
Journalist Steven Nabil in a series of tweet described what happened on Tuesday night in the terror attack at the airport. Nabil had a connecting flight to New York City from the Ataturk Airport. He was with his wife, who got injured in the attack.
We just left the aiport. My wife was injured during the attack. We were face to face with the attacker while he sprayed #istanbul part1

I ran back got my wife pulled her to store broke in and waited in terror while he was shooting outside the store.we barely made it#istanbul

We were transiting from our honeymoon tonight through #istanbul back to NYC when the bullets were closer i hugged and kissed her

My wife was sitting at nero cafe while i went 3rd floor to get food from sabbaro. Heard shots ran fast toward her.people #istanbul part 1

Came down the stairs to see the court empty and the terrorist firing toward us.carried her arm and ran around sitting ducks part 2#istanbul

#istanbul we then took cover in a closet inside a hair salon.The 45 minutes we were sitting ducks waiting to find out who will open the door.
Another witness Laurence Cameron told CNN what happened minutes after the attack.
"It was just a massive crowd of screaming people. Some were falling over themselves. A poor chap in a wheelchair was just left, and everyone just rushed to the back of the building, and then people ran the other way and no one really seemed to know what was going on," he told CNN.
"Where you normally hail a taxi, that is where the attack happened. The ground is just kind of shredded. There are bloodstains on the floor as well," he added.