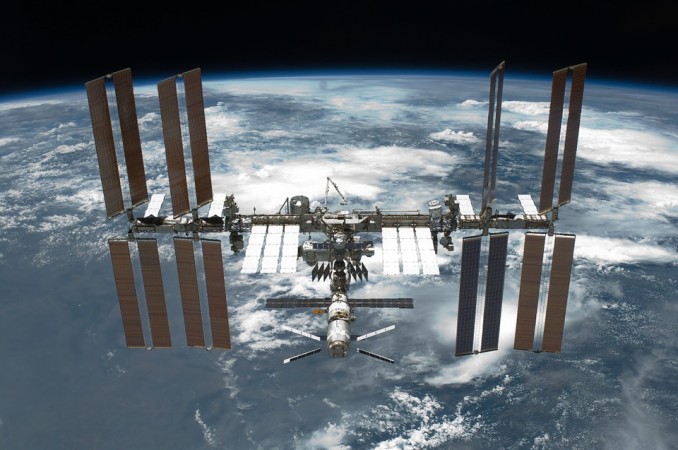 If you believe astronauts have a boring job in space, think again. It's not all work, work, work for the people aboard the International Space Station (ISS). They also indulge in activities like playing badminton and performing stunts with a vacuum cleaner.
Also read: Longest Russian spacewalk results in wrongly-angled antenna, towels in space
The most recent incident of astronauts' escapades involves a badminton match between Russian, Japanese and US astronauts. A video posted by Russian space agency Roscosmos shows the astronauts having a gala time floating about in the ISS while their badminton shuttles zoom across the screen.
It was a doubles match, with Russian cosmonaut Alexander Misurkin and NASA astronaut Mark Vande Hei playing against Japanese astronaut Norishige Kanai and Russian cosmonaut Anton Shkaplerov. Later, NASA astronaut Joseph Acaba joined the fun.
No scores were kept in this friendly match and all participants were declared winners at the end, said the National Badminton Federation of Russia (NBFR). The game followed special "space rules", though we do not know what those are.
Badminton enthusiast Misurkin compared their first badminton match with "putting a flag on Mars," saying that the game is more than a hobby for him.
Badminton is not the only option if you want to have fun in space. Previously, astronauts have displayed several ways how they keep up spirits when they are so far away from home and their loved ones.
In October 2017, NASA astronaut Randy Bresnik displayed how a fidget spinner worked in space. The video went viral soon, adding to the craze surrounding the stress-relieving toy. Bresnik also tweeted a video of ISS astronauts enjoying American football in space.
If you want to see where Space and Football collide, i'll be presenting an award at the Lombardi Honors this Saturday.
? Houston, Texas
? Lombardi Foundation Awards
⏱ 6:00 PM CT
? ESPN3/Watch ESPN pic.twitter.com/UrUnPnkpad

— Randy Bresnik (@AstroKomrade) January 26, 2018
Before these mind-blowing activities, astronauts used to spend their time in space like us normal people. Their activities included regular exercise on treadmills and other gym equipment that have been installed for their benefit. This served as a stress-buster and helped in their relaxation amid tough missions.
Apart from that, they celebrate festivals on the ISS, cook their favorite food and bond with the rest of the crew. All of them play cards, watch movies and Skype with their families and friends. If there is nothing else to do, they can always watch the earth spinning and catch a glimpse of the beautiful celestial bodies around them.
As if these activities are already not enough, Roscosmos has stated that it would love to develop space motorcycles to transport astronauts during missions in space. They will primarily ensure safety during spacewalks.
Manufacture Zvedza had tried its hands at space vehicles, but the project had to be dropped after it failed to materialize for many years. Now, Roscosmos has stated that it is working on the idea and keeping the dream of cool motorbikes in space alive.