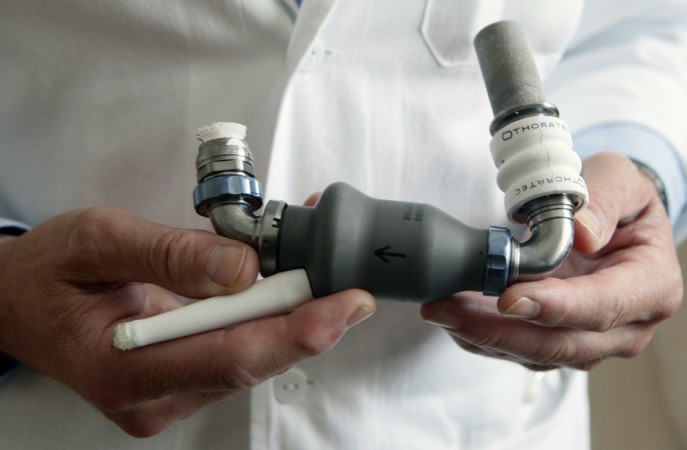 Indian Space Research Organisation (ISRO) has developed a low-cost heart pump to help people who suffer from cardiac arrests or undergo heart transplantation live a healthy life. Scientists at ISRO developed Left Ventricular Assist Device (LVAD) using rocket technology, which weighs only 100 grams and is likely to cost Rs. 1.25 lakh, NDTV reported. The imported devices that perform similar functions cost crores of rupees.
LVAD is a type of mechanical heart pump that is placed inside a person's chest, where it helps the heart pump oxygenated blood throughout the body, according to WebMD.
It took ISRO six years to come up with the artificial heart pump and the project involved experts like metallurgists, electronic engineers, flow mechanics and conduction specialists.
Scientists have applied the technology, which is used to build rockets for making the pump. The LVAD helps a weak heart pump blood at the normal rate of 3-5 liters per minute. The device has successfully completed trials on animals and is likely to be made available for humans in a few years after extensive testing.
"Material used in a rocket, the mechanism used in a rocket, electronics used in a rocket are combined to form the device, which is useful as a first step towards heart transplantation," K Sivan, director of the Vikram Sarabhai Space Centre (a space research centre of ISRO), Thiruvananthapuram, was quoted as saying by the NDTV.
He said the device was first tested on a pig and it was found that the animal was alive after the insertion of the pump.
"The other organs of the animal were intact. This shows that it is a very good alternative for an artificial heart," Sivan said.
On March 8, 2016, the National Aeronautics and Space Administration (NASA) also developed a heart pump using its flywheel technology to help children born only with one ventricle survive.
"This is one of the examples of how work that is done for rocket technology or satellite technology can help human beings. This is an alternate system in case the human heart has difficulties in pumping blood. It provides a bypass pumping system that can definitely help human lives," Kiran Kumar, ISRO chairman, was quoted as saying by NDTV.
Various studies show that in terminally ill patients who suffer from end-stage heart failure, the one- year survival rate doubled when a permanent LVAD device was inserted in their chests as compared to treatment with drugs alone, according to WebMD.