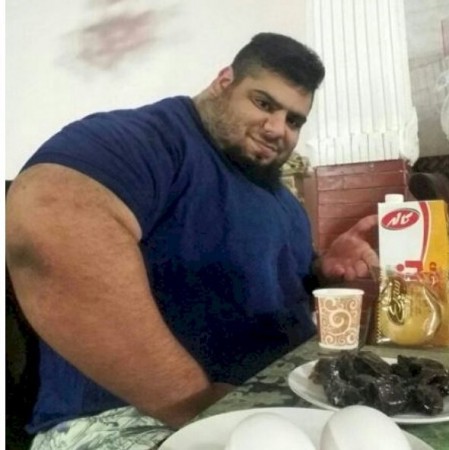 A supersize bodybuilder, known as the Persian Hercules or the "Iranian Hulk," has signed up with the Iranian forces to help them defeat the Islamic State group and defend besieged mosques.
The 24-year-old weightlifter, Sajad Gharibi, has become a sensation on social media after his pictures on Instagram went viral. He weighs a staggering 23 stone and seems to enjoy the attention coming his way while he shows off his muscles to his over 10,000 Instagram followers.

According to the Sun, Gharibi has told his over 1 lakh followers on Twitter that he would do everything possible to crush the ISIS. He also had to deny rumours that he was the ISIS executioner The Bulldozer, who also has a similar frame.
He can apparently lift 180 kgs of weight, which happens to be more than his own weight.
His posts reveal he wishes to volunteer with the Iranian forces fighting against Isis and also guard the Shia mosques that are being destroyed by the Sunni terrorists.
However, it seems he also has a lighter side as pictures of him posing with a can of Fanta are also doing rounds on social media. In one picture, he is also seen eating eggs and tea for breakfast. He also wished Americans on July 4th.
His cult physique has drawn mixed reactions from people, including Oscar-winning Hollywood actor Jamie Foxx who said: "The guy doesn't even need CGI... #RealLifeHulk." The message was reposted by Gharibi on his own handle.
"The answer to our prayers has finally arrived. Why don't you send in Captain America and Batman and Robin while you're at it?" the daily quoted Adrian Morton as saying on Facebook.
Some people have doubts whether he will prove to be an effective soldier.
"Whilst I think this guy is TRULY impressive, I worry that his size will make him SOO easy to spot. He'll be in SOOO much more danger... Thanks so much, Hulk, but we think you'll be better off at home," Marian Leed posted on the social networking site.
"I doubt he will be much help. I really don't think there is much hand to hand combat with Isis fighters. They would be better with the help of sharp shooters... I don't think these muscle bound people move very fast either!" said Sandie Chapman, according to the Telegraph.