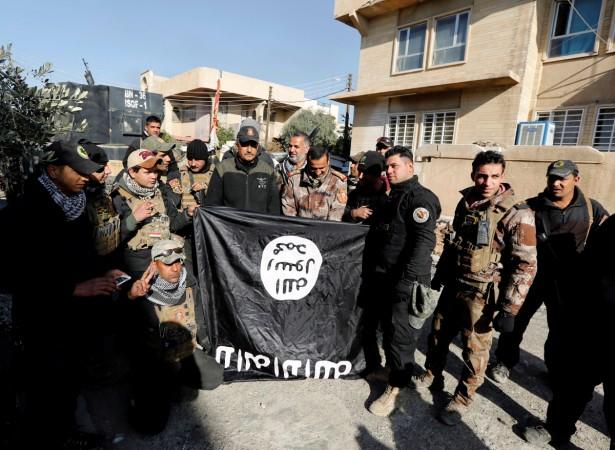 A terrorist suspected to have links with the Islamic State (ISIS) was found dead after a 12-hour long encounter on Tuesday and Wednesday on the outskirts of Lucknow.
The militant is believed to have carried out a blast on a passenger train at Jabri railway station in Madhya Pradesh, injuring nine people. An ISIS flag was also found near the slain militant's body at the house where he holed up, raising concerns of ISIS pentrtation into India.
This is not the first time terrorists with suspected links to ISIS have been found active in India.
Besides the educated youth enrolling them for the terror outfit, several cells reportedly having links with ISIS have been busted across the country, in states like like in West Bengal, Tamil Nadu, Karnataka, Telangana and Uttar Pradesh.
It is said the central agencies acted just in time to avert disasters.
But even if these modules are connected to ISIS, can it be concluded that ISIS has indeed penetrated India the way security agencies are claiming they have?
By penetration, we mean whether the terror group has succeeded in making India a strong base from where it can act at will?
Given the fact that India is home to a massive Muslim population (aprox 180 million) and that in current times there is a tendency to reduce everything to a majority-minority equation, claims that ISIS has strengthened its grip in India are not surprising.
But if one closely analyses the facts, it can be seen that India is not exactly fertile ground for ISIS's extreme ideology.
Muslim community leaders, political and non-political, have regularly condemned ISIS
There is a clear tendency of stereotyping Muslims in India when it comes to establishing a link between them and ISIS. But in reality, there are voices in the community that clearly denounce terror and ISIS for the brutal ways it adopts to slaughter human beings.
This could be clearly seen when ISIS claimed responsibility for the ruthless killing of several people, including foreign nationals, at a cafe in Dhaka in neighbouring Bangladesh in July last year.
Several Muslim leaders, political and non-political, openly cursed ISIS. AIMIM leader and MP Asaduddin Owaisi called ISIS "dogs of hell" after the Bangladesh attack and asked his followers not to die for Islam, but live for it.
All India United Democratic Front leader Badruddin Ajmal termed ISIS a "bunch of killers".
In 2015, in the wake of the terror attacks in Beirut and Paris, Jamait Ulema-e-Hind – the largest Muslim body in India – held rallies across the country denouncing ISIS. It had said ISIS was not a representative of Islam, rather it was a threat to humanity.
Darul Uloom Deoband, Asia's largest Islamic seminary also issued a fatwa against ISIS and urged the world to come together and fight it.
But why is that the country with the third-largest Muslim population in the world is not a fertile recruiting ground for ISIS?
Director of the Institute of Conflict Management in New Delhi, Dr Ajai Sahni, feels India has a very syncretist form of Islam, i.e., they are averse to radicalisation. This viewpoint is extremely relevant.
Indian Muslims participate in elections and get citizens their due
Whatever one feels about the current state of affairs in India's socio-political and socio-economic scenarios, the pluralism of the country, coupled with its democratic functioning, have helped it guard itself from several threats.
Irrespective of the majoritarian ploy to turn India into a Hindu state and the feeling that the Muslims of India are increasingly being cornered, one cannot deny the fact that the community is still an integral part of the Indian way of life; where its members cast their votes and get their due as free citizens.
There is no ghettoisation on religious and communal lines, as seen in many Western countries, where the conflict has become all the more grave. The very idea of unity and diversity in India has been a big advantage as it guards itself against radical threats.
Poverty has helped India safeguard its Muslim youth!
Poverty is another reason that has helped India remain immune to the ISIS threat so far. ISIS is a body that operates through primarily online connections.
It may be recalled that South India, which is more advanced in terms of online communication, has seen more people gravitating towards ISIS thaan anywhere else in the country.
The lack of Internet penetration and consequently, use of social media, in several parts of the country has worked to India's advantage in saving its youth from ISIS's death trap. Poverty has of course also pushed many youth down the wrong path, but they have yet to be reached and recruited by groups like ISIS.
Indian authorities have not tried forceful de-radicalisation, unlike in the West
The third reason why ISIS has not succeeded in penetrating India the way it would have liked, is the government's reluctance to de-radicalise minds. In the West, we have seen how radicalism breeds counter-radicalism, and it only breeds more extremism.
In India, the authorities have not involved themselves in de-radicalisation programmes and have worked with soft supervision and monitoring. While we still may complain, saying the laws are lax in our country, that slackness also has an advantage. Handling things in a heavy-handed manner could cause a bigger reaction, something the West is experiencing almost every day.
But having spoken about the reasons that have shielded India from ISIS, one must remember that there is no room for complacency. Forces like globalisation and digitisation are irreversible and they are powerful enough to undo whatever Sufism has preached.
On top of that, the growing polarisation on religious lines also poses a potent threat to the idea of India.
If we are not careful enough about this, ISIS will not find it tough to break into our living rooms in the days to come. Will we do the needful to ensure that the exception doesn't become the rule when it comes to ISIS in India?