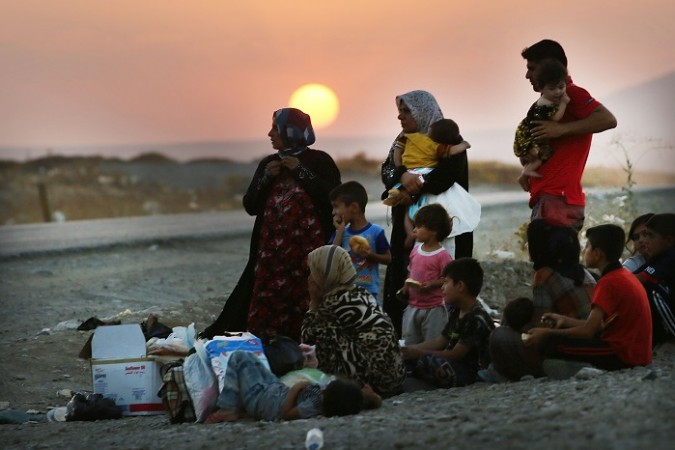 The Islamic State militants have reportedly executed dozens of Yazidis in Sinjar, after capturing the town on Sunday.
For the Sunni militant group- Islamic State, the Yazidis are devil worshipers, and for centuries the group has faced persecution for its religious belief.
Thousands of residents of the ancient northern Iraqi town of Sinjar fled the region after the extremist militants pushed back the Kurdish forces in the area.
Only "few of its residents stayed to find out what was planned for them when the group's militants entered the city on Sunday," Washington Post reported.
And the few, who stayed back in their home town, reportedly have been brutally executed by the Al Qaeda faction group, formerly known as the Islamic State of Syria and Iraq (ISIS).
"They captured his whole family," a GlobalPost report quoted a friend of a man, whose whole family was executed by the Islamic State militants.
"They made his wife and daughters cover their hair and faces. Then they made them renounce their religion and swear allegiance to Mohammed. After that, they killed them all."
The United Nations too has raised concerns over the situation in Sinjar, following the withdrawal of Kurdish forces guarding the Iraqi frontier town near the Syrian border.
"A humanitarian tragedy is unfolding in Sinjar," Nickolay Mladenov, a top UN envoy in Iraq said in a statement, reported France24.
The UN statement also noted that 200,000 people have fled the town of Sinjar. However, there is grave concern over the fate of civilians, who fled into the Jabal Sinjar mountains and now might be trapped in their hideouts by the Islamic State militants, the UN statement noted.
"The United Nations has grave concerns for the physical safety of these civilians," Mladenov said in the statement.
Reports claim that the displaced Yazidis have fled to Lalish, which is a place of pilgrimage and worship for the Yazidi sect.
The Yazidi Belief
For Yazidis, their belief system has been a cause of much suffering.
According to the Yazidis, Lucifer, did not bring evil onto the world, instead the fallen angel bridged the gap between humans and God.
Their belief is in direct opposition to Islam, which considers Lucifer as Satan, an evil force working against the way of the God.
The Yazidis consider themselves direct descendants of Adam and Eve.