Chennaiyin FC head coach John Gregory has said the Marina Machans are keen on becoming the first-ever Indian Super League (ISL) side to retain the title and that they would seek inspiration from the way English Premier League giants Manchester United played under Sir Alex Ferguson.
Gregory insisted that "real champions" just don't stop with one title but show the hunger and determination to keep winning it year after year.
The former Aston Villa coach, who had helped win Chennaiyin their second ISL title in his first-ever season with the South Indian franchise, added that his players have come back with a greater hunger and better attitude than last year.
"When Sir Alex Ferguson won his first championship in the 1990s, all he wanted to do was go and win it again in the following season. He won the league title 13 times and that's the true sign of a champion. You don't just win it once, you go back and win it the following year," Gregory told media in Bengaluru on Thursday.
"Real champions don't just win it once, they go back to win it again the following year and the year after that.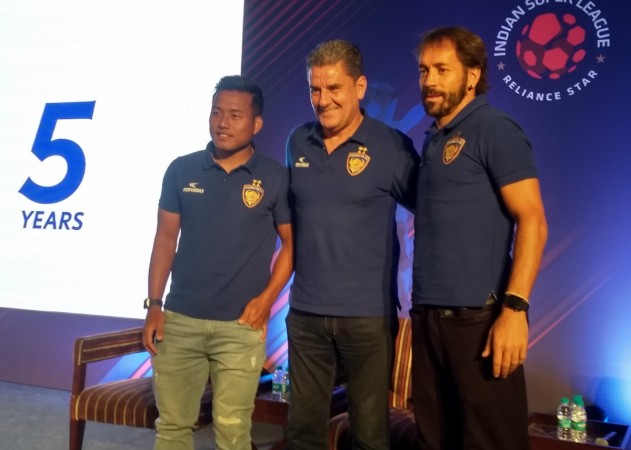 "It's more a mental thing than a physical thing. My boys have always been physically fit, always able to compete with the opposition physically. It literally started on the first day back in the pre-season. My staff and I look at our players every single day, we assess our players every single day.
"One of the things that we look at is the attitude. They have come back with an even better attitude than they had last season. They have all got exactly the same kind of desire and the hunger they had 12 months ago. So that in itself speaks volumes.
"Obviously, as a leader of the group, it's my duty to make sure they maintain the hunger and desire. It all starts again next week. We're very positive, determined and still very very hungry."
Gregory taking a leaf out of Ferguson's books
Gregory also revealed he believes in constantly chopping and changing his support staff, something that Ferguson was known for doing.
As a result, Chennaiyin FC have brought in former Birmingham City first-team coach Paul Groves as the assistant coach, replacing compatriot Mark Lillis. Meanwhile, Kevin Hitchcock, the former Chelsea shot-stopper, has joined the team as their goalkeeping coach.
" I wanted to just make one or two changes to the backroom staff following the leaf out of Sir Alex's book. He changed it on a regular basis occasion. He would change the set-up every two or three years," Gregory said.
"I made a couple of changes. I brought in Paul Groves as my assistant coach and Kevin Hitchcock as my goalkeeping coach. It kind of brings in a new voice in the training pitch. They have different methods and brings in different ideas. Change is always good and so far it's working very good."
Chennaiyin have made a conscious decision about retaining their core squad from their title-winning season.
Despite letting go of captain Henrique Sereno, the two-time champions have made some smart purchases in Eli Sabia of Brazil, Zohmingliana Ralte from Mizoram, midfielder Andrea Orlandi and forward Carlos Salom.
Gregory's side have also added some exciting young talents in Deepak Tangri, Srinivasan Pandiyan, forward Rahim Ali, and Isaac Vanmalsawma.
Gregory: Will speak with Albert Roca over AFC Cup
Chennaiyin will be ISL's representatives at AFC Cup 2019 and coach Gregory is well-aware of the pressures the continental tournament brings in.
The Englishman though revealed he will be seeking help from former Bengaluru FC coach Albert Roca over workload management and other issues that need to be taken care with the AFC Cup commitments.
"We are not going to look far ahead. We know that the AFC Cup is coming but it's not going to be at least until February next year. Obviously, on the back of the mind though, we know we have to plan. We're aware of the rules and regulations. We know when it comes, it is going to create some congestion," Gregory said.
"But I'll speak with Albert Roca and maybe just get some information on how they prepared for the Cup. We got a lot of young players in the squad who are pushing the senior players for playing spots and they will get their opportunities.
"Last season, our home match against BFC was pushed to three or four days after the scheduled date because of their AFC commitments. We might end up being in such a situation this year. I hope we get some assistance from ISL, considering we're representing the league."
Having returned from the pre-season tour in Malaysia, Chennaiyin will open their campaign against last year's runner-up Bengaluru away from home at Sree Kanteerava Stadium.