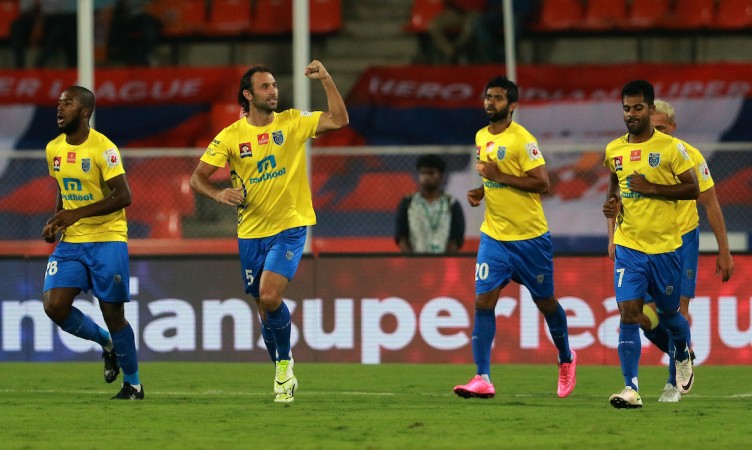 FC Pune City came from behind to hold Kerala Blasters at Balewadi Stadium on Monday and prevented the Sachin Tendulkar co-owned side from bagging a second consecutive victory at Indian Super League 2016. Cedric Hengbart scored the opening goal for the away side, while a deflected goal by Momo Sissoko remained the equaliser for the home side.
The away side, with full confidence from the win from their previous game, got off to a good start and the early goal by defender Hengbart gave a glimpse of things to come from Kerala Blasters. From Mehtab Hossain's corner in the third minute of the match, Duckens Nazon pulled the trigger, but the travelling ball hit a pile of bodies and the lanky French defender was right there inside the six-yard box to slot the loose ball past Edel Bete for the opening goal.
Blasters, co-owned by Tendulkar, dominated the attacking index in the rest of the half as well as they created plenty of matches to trouble the Pune defence. For the home side, Jesus Tato tried to give everything he had to score the equaliser, but the Spanish forward just couldn't get past the defensive pair of Aaron Hughes and Hengbart.
Apart from Tato, Mali international Dramane Traore, too, tried to take several potshots on goal, but every time, he remained unlucky. FC Pune City coach Antonio Habas, who cut a forlorn figure as he watched the game from the stands owing to his suspension, got a reason to smile in the 57th minute as Traore finally headed the ball inside the goal powerfully.
However, it was ruled an offside by the linesman and instantly, the comfort from Habas' face swept off. The former Atletico de Kolkata coach finally heaved a sigh of relief in the 68th minute as the equaliser arrived when Pune marquee player Sissoko's shot on goal got a deflection from Hughes and entered the net. This time, there wasn't any offside flag.
Edel Bete, the two-time Indian Super League winner, made sure to hog the limelight in the match as he made a sensational save to deny Kerala Blasters' youngster Farukh Choudhary a sure chance to get the lead back for his team in the 72nd minute of the game.