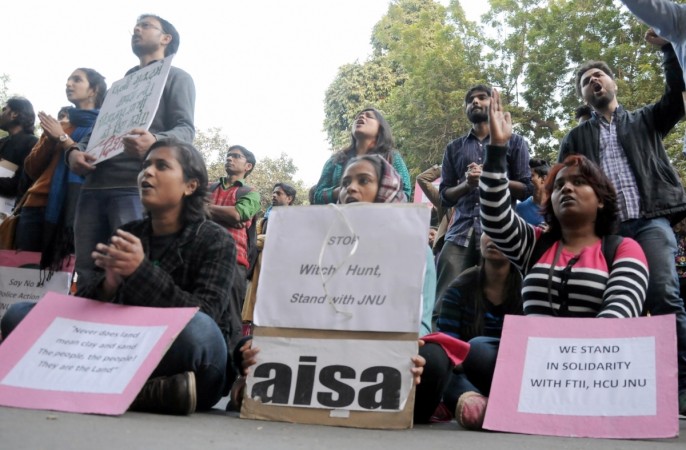 The Islamic State group supporters in India who also joined the outfit's wing in India had been asked to infiltrate the protests at Jawaharlal Nehru University campus earlier this year and create chaos and destruction, according to a Times of India report. Three arrested ISIS suspects reportedly made the confessions in their statements to the National Investigation Agency.
Protests at the university had broken out in Delhi and other parts of the country over the arrest of Kanhaiya Kumar, the leader of JNU students' union, earlier this year over sedition charges. Several ISIS supporters in India were at the time instructed to further agitate students and set vehicles on fire.
According to TOI, intelligence agencies suspect Mohammad Shafi Armar, who joined the Islamic State group in Syria and was believed to be the main recruiter of jihadists from India, was behind the plan. He claimed to be Ahmed Ali, head of Ansar-ut Tawhid fi Bilad al-Hind (AuT), and contacted the youths through the Trillion app.
"He told me that agencies are keeping a tab on us. He told me that a student movement is happening in the country and that we should enter and put vehicles, oil tankers on fire," Ashiq Ahmad reportedly said in his statement, which TOI said it had access to.
Armar, who hailed from Bhatkal in Karnataka and was a former Indian Mujahideen operative, was said to have been killed in Syria in a U.S. drone strike last month. He was reportedly trying to recruit as many as 600 to 700 youth from India to join the Islamic State group, and emerged as the common link the several suspects who were arrested by the NIA in recent months.