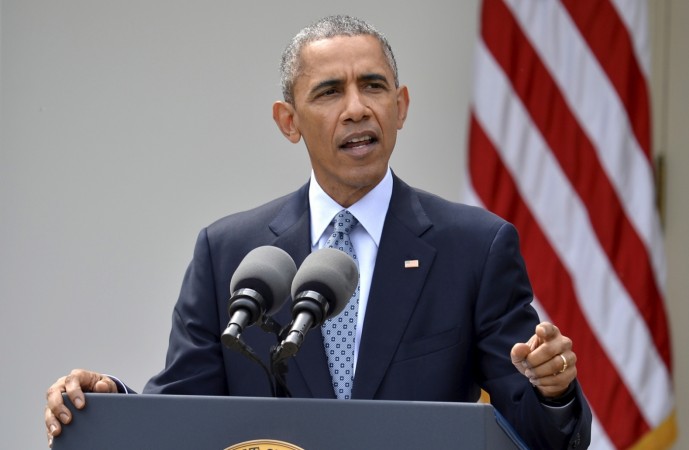 The Islamic State of Iraq and Syria (ISIS) on Sunday released a beheading image of President Barack Obama and vowed to avenge the raid by US special forces that killed its dozens of militants, including a top commander Abu Sayyaf.
Following reports of Sayyaf's death, several Isis supporters took to Twitter and vowed to seek revenge. An Isis Twitter handle @ebn_alkim stated: "If your goal is killing Abu Sayyaf then our goal is killing Obama and the worshipers of the cross. We have attacks coming against you."
Another Isis supporter, discussing about the US raid that took place in the Syrian city of al-Amr, said: "If they took Abu Sayyaf, we will take Obama." Many Isis supporters also shared a brutal beheading image of Obama.
A Vocativ report that analysed the social media across Syria following the raid by US Special forces found that some of the Isis supporters refused to believe that the United States carried out an attack inside Syria.
Some of them claimed that the entire news was a propaganda material meant to distract Isis, which is fast gaining grounds in the Iraqi city of Ramadi, the report noted.
US Defence Secretary Ashton B. Carter had in a press statement on Saturday said that the killing of Abu Sayyaf has dealt a "significant blow" to Isis. The militant leader was a key player in the Isis' military operations and played an important role in the group's "illicit oil, gas and financial operations."
A New York Times report had stated that the American Special Operations force carried out a "rare" raid in eastern Syria. It reported that two dozen Delta Force commandos entered Syria and killed the Isis commander, captured his wife and freed a Yazidi woman kept as sex slave by Sayyaf. It is reported that the US President Obama had approved the raid.
Sayyaf is dubbed as the Islamic State's "emir of oil and gas".