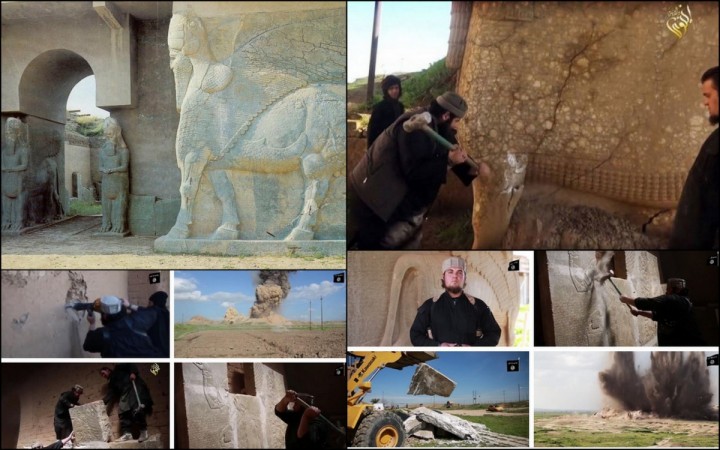 Isis has posted a video online which shows the Sunni terrorist group destroying the ancient ruins of the Assyrian city of Nimrud in Iraq using Barrel bombs, bulldozers and jackhammers.
Isis claims that it posted the video to show how it destroyed the UNESCO heritage site said to be over 2,000 years old. Isis, which is a Sunni radical group, attacked Nimrud and other ancient sites in Iraq as part of what it sees as a war against "false idols".
The new Isis video now has confirmed a report which came out in March about the jihadists having vandalised Nimrud, one of Iraq's greatest archaeological treasures.
The seven-minute video, posted late Saturday evening, shows bearded militants using sledgehammers, jackhammers and even saws to break down alabaster relics of Assyrian kings and deities.
The latter part of the video shows a bulldozer bringing down a section of walls inside Nimrud, while militants place barrels filled with explosives to destroy three separate areas of the UNESCO site.
"God has honoured us in the Islamic State to remove all of these idols and statutes worshipped instead of Allah in the past days," an Isis militant says in Arabic in the video, reports Daily Mail.
Another Isis militant then vows to "remove signs of idolatry" from every piece of land that the group captures.
Nimrud, which was founded in 13th century BC, lies about 30 km south east of Mosul. Back in June last year Isis took control of Mosul, which is Iraq's second largest city.