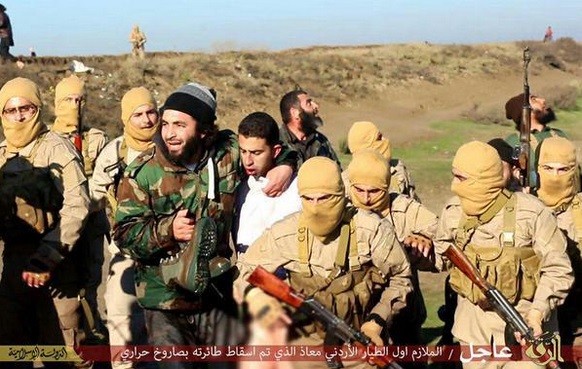 Jordanian Pilot Muath Al-Kasaesbeh was in fact, burnt alive a month ago and his death was simply kept a secret by the Islamic State in order to use his name as a bargaining chip with the Jordanian government, latest information related to the sickening ISIS video released on Tuesday, revealed.
The deadly hardliner Sunni militant group, otherwise known as ISIS or ISIL, circulated photos and a video on Tuesday purporting to show the pilot being burnt alive inside a cage. But the murder had taken place a month ago on 3 January, Jordanian state TV has reported.
Jordan was waiting for a proof that the pilot was still alive and had reportedly agreed to release Sajida al-Rishawi – a woman prisoner the group had wanted in exchange -- if they could give evidence of the pilot's whereabouts.
The ISIS militants apparently wanted Jordan to believe that the pilot was still alive for the exchange to take place. In a video released last week, Japanese hostage Kenji Goto was made to say: "If Sajida al-Rishawi is not ready for exchange for my life at the Turkish border by Thursday sunset, 29th of January, Mosul time, the Jordanian pilot Maaz al-Kassasbeh (sic) will be killed immediately".
However, the fact that the pilot had already been murdered signified that the ISIS group was willing to do everything it could to secure the woman prisoner, who was hailed as a 'heroine' by the militants.
The footage and images released on Tuesday showed a burning man standing in a cage. Kesaesbeh appeared to have been placed inside the cage seemingly located on an open ground. He is wearing the orange jumpsuit that all ISIS hostages are forced to wear, and is apparently drenched in an inflammable liquid before being set alight.
The authenticity of the video has still not been confirmed even as various world leaders have expressed their disgust towards the "sickening" video.
In its response, Jordanian authorities have vowed that there would be an "earth-shaking" response for the murder of the pilot.
"The revenge will be as big as the calamity that has it Jordan," Army spokesman Colonel Mamdouh al Ameri said in a televised statement. Another government spokesperson promised that there would be a "strong, earth-shaking and decisive" response.