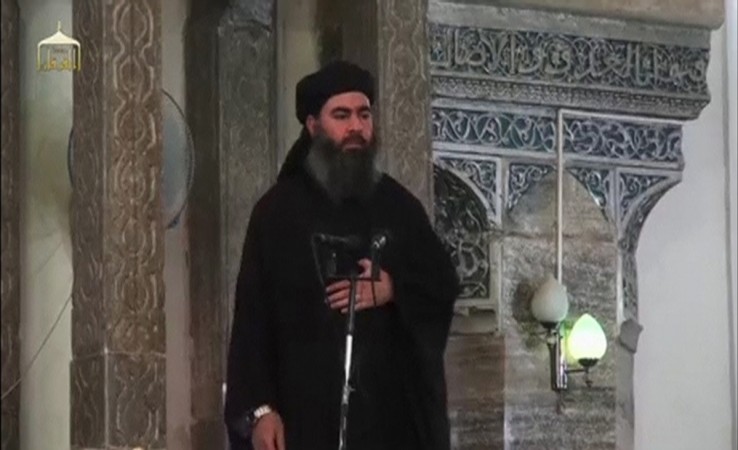 The self-styled 'caliph' of the Islamic State (ISIS) militant group has arrived in Mosul just a day after the jihadists cut off all phones lines in the city, report local news sources.
There is news that US planes are preparing to besiege and capture the leader.
Local Iraqi security sources revealed that the jihadist leader arrived in the city after having reportedly fled to Syria after an injury from US airstrikes two months ago, local news publication Iraqi News reports.
A senior Iraqi military official in the Defense Ministry said that several credible sources had confirmed that the head of the group had arrived in Mosul on his first visit in two months.
"The arrival of al-Baghdadi yesterday was preceded by a complete cut of mobile and internet communications networks throughout the day, while the militants of ISIS were deployed all around the city," the source said. "They wore a uniform and launched a campaign to clean up the main streets."
The main informant of his visit is a Brigadier General in the Presidium of Iraqi Army Staff, who reportedly said al-Baghdadi had arrived in the city of Mosul from Syria taking advantage of the low visibility in the border area due to intense rain and fog.
The leader of the dreaded jihadist group could only move within Iraq, and between Anbar and cities of Shirquat areas and Hamrin Mountains until now due to the lurking danger of being spotted by the deadly US-led coalition warplanes.
There were many speculations about why he arrived in the city with 200 fighters, most of them non-Iraqis. It is likely, that the leader is increasingly getting agitated with the recent onslaughts from the US-led warplanes that seem to have put the leadership of the group in crisis in the area.
Al-Baghdadi had also appointed a person called 'Hussein Saud' as the head of the Mosul region in place of 'Iraqi Radwan al-Hamdani' who was governing the ISIS jihadists in Mosul until he was killed in an airstrike earlier this month.
"3 US fighter jets with surveillance planes are patrolling the skies of Mosul, hoping to be able to besiege Baghdadi inside the city and prevent him from returning to Syria or going out to another city in Iraq," the source added.