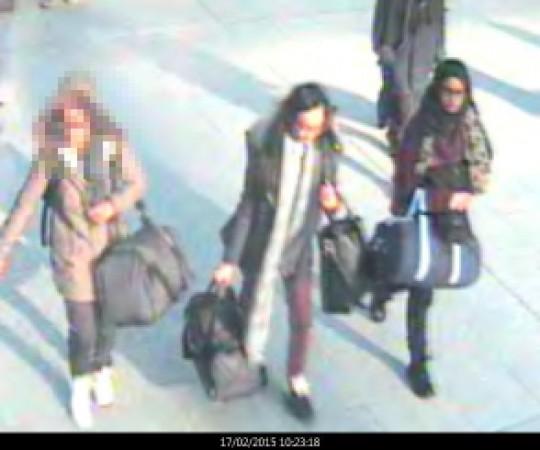 Australia has warned women who are heading to Iraq and Syria to become "jihadi brides" that travelling to Syria and Iraq involves no "romantic adventure", adding that a worrying number of women have of late been forced to join the dreaded Islamic State (Isis).
Australia's foreign minister Julie Bishop said on Tuesday that the growing number of teenage girls travelling to Syria defies logic and it is of paramount importance that friends and family members dissuade these girls from being brainwashed.
At least 110 Australians have left their country to fight alongside the Islamic State group, according to security officials. At least 30 to 40 women are either active participants or engaged in supporting the group in Syria, Iraq and Australia.
"Sadly we are seeing a younger cohort seeking to join the conflict in Syria and Iraq and an increasing number of young females," Bishop said, referring to the high-profile case of three British teenage girls heading to Syria last week.
"This defies logic. Family and friends need to reach out to young people at risk before its too late," she told ABC.
She referred to the case of a 22-year-old woman named Amira Korroum who left Sydney just before Christmas last year to join her husband Tyler Casey to fight alongside the jihadists but was executed in Aleppo.
"The death was not martyrdom, it was a tragic senseless loss," she said stressing on the need to curb the tendency of young women to travel to Syria or Iraq to become "jihadi brides."
"More women are either joining their foreign fighter husbands or apparently seeking to find partners, the so-called jihadi brides, or are otherwise providing support for terrorist organizations," Bishop said.
She added that women now account for almost one-fifth of the total number of foreign fighters, and 500 of these women are from Western countries.
"If the killings and executions aren't enough, Daesh has published instructions on the treatment of sexual slaves, which includes raping and beating women," she said, referring to the terrorist outfit with an alternative name.
"Even children are not immune, with instructions encouraging sexual assault on girls who have not yet reached puberty.
"So their attitude towards women is utterly appalling and so young women shouldn't be led to believe that there's some romantic adventure attached to supporting Daesh (Islamic State) and similar terrorist organisations."