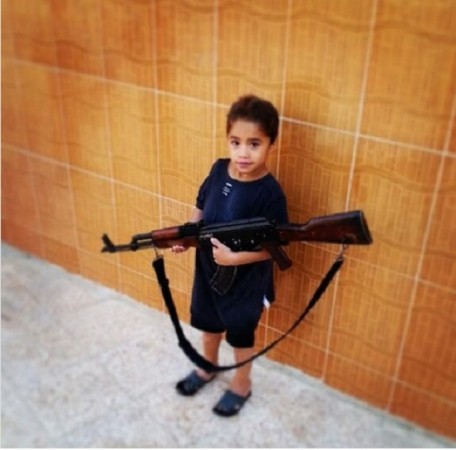 Over 600 children, who were abducted by jihadist group ISIS, are reportedly being trained and radicalized to be used as weapons in the ongoing war in Syria and Iraq.
Terrorist organization ISIS, which is said to be so brutal that its parent organization Al-Qaeda publicly broke all ties with it, is now said to be subjecting young children to intense radicalization training.
The abducted children, most of whom hail from the Kurdish villages along the Turkish border, are being given Islamic training as well.
Despite several negotiations, the ISIS which first claimed that it would release the children within in 10 days after their Islamic training has failed to keep its word.
There is a general fear that the children are being trained for ISIS activities, including carrying out suicide attacks.
"Families also worry that their children may be brainwashed and used in suicide attacks" Human Rights Minister in Kobane Canton, Hersho Faruq Shahin, told McClatchy.
ISIS, which has taken over almost the whole of northern Iraq, wants to capture the entire country. And from the way it is going, the tide certainly seems to be in favour of the invading forces.
Children also seem to have featured a lot in the social media propaganda of ISIS.
After getting several of its Twitter accounts blocked, the ISIS of late has switched to the hashtag Dawlah, which is Arabic for State. Under the Dawlah hastag, the ISIS is now using photos of young children posing with AK-47s and participating in ISIS rallies, to spread its gospel of hate and violence.
The children of #Mosul, happy moment with Dawlah ☺ #ISIS #Iraq via @shoutussalam pic.twitter.com/tWoDvXSiIe

— أم هريرة #ﺑﺎﻗﻴﺔ (@Ghareeba_7) June 10, 2014
In a recently released video, the Daily Mail reported that the Islamic group, which wants to establish a Muslim statehood both in Syria and Iraq, is radicalizing the young children by making them watch the mass execution of captured prisoners. Boys as young as eight and nine were part of the group that was made to watch the killing of Iraqi soldiers.
With crisis in Iraq spiraling out of control, the US has sent in 275 marines to mainly safeguard the American assets in the country, including the Embassy staff. The US government, however, has so far refused the request of the Iraqi government for air-support to defend itself from the invading militants.