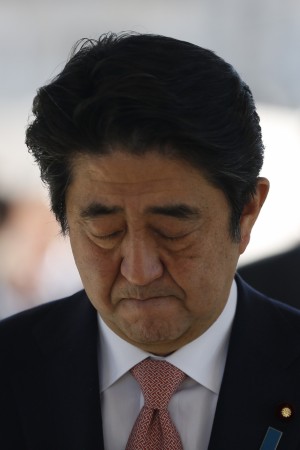 Japanese Prime Minister Shinzo Abe is requesting help from allies in the Middle East to help save two Japanese hostages who the ISIS militants have threatened to kill if Japan fails to pay a $200 million ransom.
The threat was conveyed through a video released on Tuesday.
Abe spoke to King Abdullah of Jordan, Turkish President Recep Tayyip Erdogan and the President of Egypt Abdel-Fattah el-Sisi, seeking their help after the video was released.
Japan's Chief Cabinet Minister Yoshihide Suga also said that the Japanese government has set up a crisis task force in Jordan, reports Bloomberg.
Meanwhile, as Japanese officials said they would still analyse the video to verify its authenticity, Abe displayed no hesitation in his pledge to free the two mean.
The Japanese leader, who wrapped up his six-day visit to the Middle East on Tuesday told journalists in Jerusalem: "Their lives are the top priority. Extremism and Islam are completely different things."
Both Abe and his government members refused to say whether they would pay the ransom as demanded by the Sunni hardliners in the video, but Abe dispatched his deputy foreign minister, Yasuhide Nakayama, to Jordan to request the country to help save the hostages, reports The Associated Press.
In the video, the Islamic State spokesmen – clad in black dress and masked, and addressing in an English accent – said that the two hostages would be killed if Japan didn't pay the ransom within 72 hours. The amount ironically is similar to that Abe has pledged in aid to nations fighting against the extremist group, during his Middle East trip this week.
"To the prime minister of Japan ... you willingly have volunteered to take part in this crusade," said the masked man, who sounded exactly like the man in other videos of ISIS where Western journalists and aid workers were killed over the past months.
"And to the Japanese public: Just as your government has made the foolish decision to pay $200 million to fight the Islamic State, you now have 72 hours to pressure your government in making a wise decision, by paying the $200 million to save the lives of your citizens," he said.
The knife-wielding man said "this knife will become your nightmare" in case of Japan fails to pay the ransom.