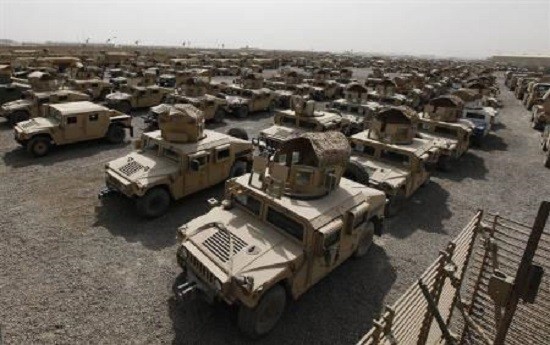 The Pentagon is alarmed by reports that the Islamic State of Iraq and Syria (ISIS) has captured dozens of US Humvees, tanks and weapons, which the militants are now sending to Syria.
It has been reported that the US intelligence agencies are aware of the pictures posted online by the ISIS.
Pentagon spokesman Bill Speaks in an email confirmed to Washington Free Beacon, an online newspaper from the Center for American Freedom, that both intelligence and defense agencies are worried about the development.
"We're aware of reports of some equipment - namely Humvees - and the pictures that have been posted online. We are certainly concerned about these reports and are consulting with the Iraqi government to obtain solid confirmation on what assets may have fallen into ISIL's hands," reads the email.
The advanced US weaponry that is now in possession of ISIS can change the group's standing in Syria, especially among the other rebels groups fighting in the country including al-Qaeda and al-Nusra Front. The Humvees and tanks will also strengthen the group in its fight against the Bashar al-Assad forces in Damascus.
The exact number of armored vehicles and ammunition captured by the invading forces from Iraqi soldiers is yet to be ascertained.
Kids play football and jumps atop a Humvee as an ISIS soldier parks by a road. pic.twitter.com/qy36hN3JcI

— Abdul-Malek (@truthsMaster) June 18, 2014
It is reported that besides dozens of US Humvees, the rebels have captured Russian-made T-55 tanks and US M-1 Abrams tanks which are being transported to ISIS areas from the Nineveh province in northwestern Iraq.
Posted on social media: Chechen ISIS commander Abu Omar al-Shishani exiting a captured Humvee in Mosul, Iraq. pic.twitter.com/zfxHr7VmUE — Ali H. Soufan (@Ali_H_Soufan) June 19, 2014
Another worrying factor for both the US and the Iraqi government is the recent capture of border crossing of Turabil by ISIS on Sunday.
By taking over the border crossing, the al-Qaeda offshoot has gained a strategic location that gives it unrestricted access between Iraq and Syria. The control also gives ISIS militants easy route towards Jordan and Saudi Arabia.
ISIS, which plans to establish an Islamic Kingdom, is fast moving towards Baghdad to complete its conquest of Iraq.
While the US government is working on a strategy towards solving the Iraq crisis, experts suggest that White House will have to consider both Syria and Iraq together before finalizing its action.
The rapid expansion of the ISIS in Iraq calls for a swift military and diplomatic action. According to a LA Times report, the re-emergence of the sectarian conflict in Iraq is directly linked to the Syria conflict.
And if the Barack Obama government looks for an effective answer to the ISIS threat in Iraq, it will have to start with Syria, which has now become ISIS's strong recruiting base and safe haven.