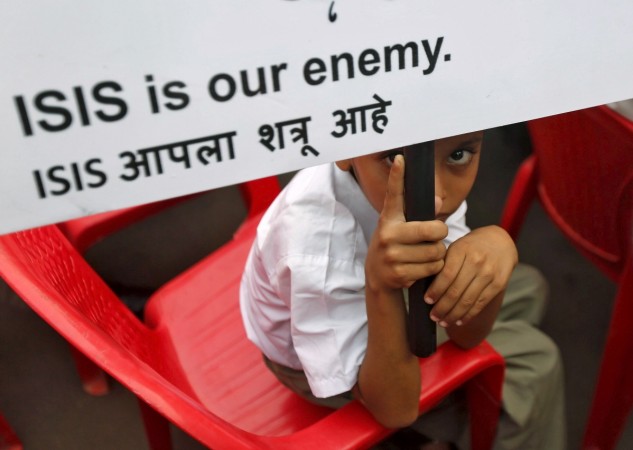 A suspected militant arrested on Friday from Mumbra, a suburb of Thane district in Maharashtra, was reportedly the chief of India wing of extremist group Islamic State in Syria and Iraq (ISIS). The arrest was made by the National Investigation Agency (NIA) as part of the crackdown on the jihadist group that poses threat to the country ahead of Republic Day.
The man, identified as 33-year-old Muddabir Mushtaq Sheikh, was recruited by Shafi Arman -- the ISIS handler operating from Syria and responsible for recruitment of youths in India. Shafi made Sheikh the chief of Ansar-ut Tawhid fi Bilal al-Hind -- the Indian wing of ISIS -- in 2013, Hindustan Times reported.
During interrogation, Sheikh told interrogators that his arrest will not affect ISIS' growth in India adding that he has no respect for the Constitution of India.
"He told us that his arrest does not make any difference to the structure of the IS in the country. He was bold enough to say that some other person will be made the Amir and work to establish IS will be continued," HT quoted a police officer as saying.
While Sheikh was the chief, 20-year-old Khalid Ahmed Ali Khalid alias Rizwan was "second-in-command" in the Indian wing of ISIS, police officials privy to the investigation told the daily. Khalid was arrested from Mumbai and produced before a magistrate court that sent him to police custody till 30 January.
Khalid is also said to have indoctrinated 23-year-old Ayaz Sultan, the Malwani resident who went missing after he left home on 30 October last year. He was suspected to have joined ISIS. Sultan was also given the responsibility to recruit others; Khalid visited him in Malwani and met other recruits.
Khalid also reportedly expressed no guilt in joining hands with the Islamist group.
Shafi, besides bomb attacks, had instructed them to carry out knife attacks on foreigners and create confusion.
"It is not alone to conduct blasts in the country. From operating like lone wolves who could use anything including a knife to attack a foreigner to organising multiple attacks in the country, Shafi was guiding them. His method is to attack and create confusion, and has told them that the ISIS from Syria will issue statements owning responsibility," another official told HT.
The NIA had arrested several ISIS suspects from Mumbai, Mangaluru, Bengaluru and other parts of Karnataka, Hyderabad and Uttar Pradesh in the last few days. So far, 19 suspected ISIS sympathisers have been taken into custody by the NIA, according to India Today.
High security has been put in place across Delhi as French President Francois Hollande is in India for the nation's 67th Republic Day celebrations. Hollande, who arrived in India on 24 January as part of a three-day visit, is the chief guest at the Republic Day parade.
Several alerts were issued ahead of the R-Day celebrations. The French Consulate in Bengaluru received a threat letter on 11 January.