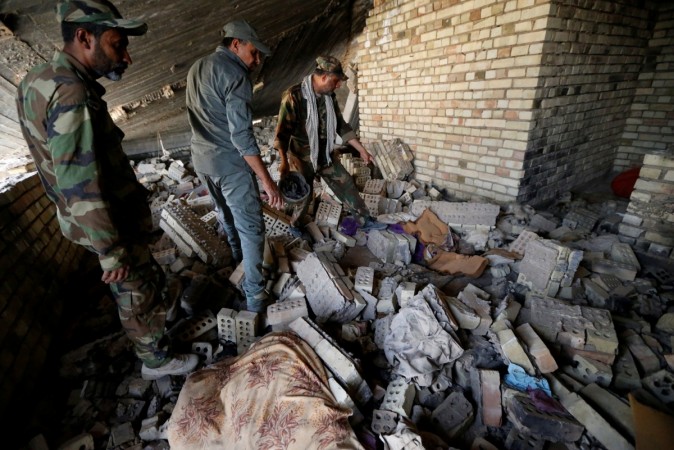 The Islamic State group (ISIS) is shooting and killing civilians as they flee Fallujah, according to the Norwegian Refugee Council (NRC). Meanwhile, the Iraqi forces, backed by U.S. airstrikes and Tehran-backed militia, have claimed that they have taken over the southern edge of the war-torn city.
Around 50,000 Iraqis, including almost 20,000 children, are still trapped inside Fallujah as the Iraqi forces take their offensive forward. Those who have fled the bloodshed are housed in camps around the edge of the city, instead of being treated as human shields by the ISIS. Since the operation to take back Fallujah began two weeks back, almost 18,000 Iraqis have reached the displacement camps.
"Reports from families that NRC has been in touch with describe that civilians trying to cross the Euphrates river in order to flee the fighting are being targeted by armed opposition groups," AFP quoted NRC as saying in a statement. "An unidentified number of civilians have been shot and killed trying to cross the river," NRC added.
"Our biggest fears are now tragically confirmed with civilians being directly targeted while trying to flee to safety," Nasr Muflahi, NRC's Iraq director, was quoted as saying by the agency. "This is the worst that we feared would happen to innocent men, women and children who have had to leave everything behind in order to save their lives," he said.
Meanwhile, paramilitary forces of Iraq dominated by Tehran-backed units were quoted as saying that they would enter Fallujah if the operation by the counter-terrorism units were too slow, the Guardian reported. The Iraqi forces have reportedly taken over the Naimiya region.
Fallujah's population is mainly Sunni while the Tehran backed-units comprise Shia Muslims. Their violent behaviour against Sunni population in Tikrit in 2015 has made Iraqi Prime Minister Haider al-Abadi vary of allowing the Shia militia around the Sunni population in the heart of the city.