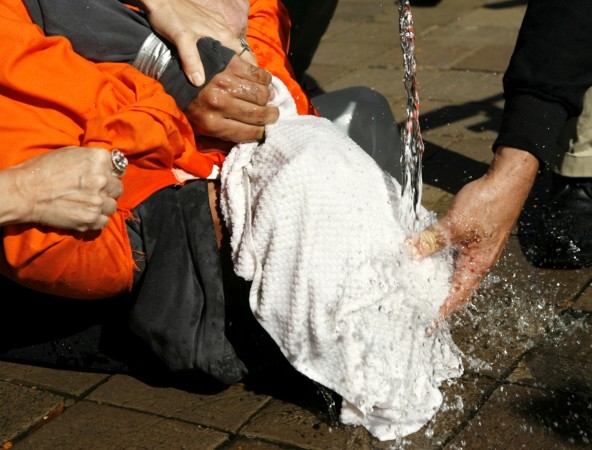 Soon after the CIA torture report was released on Tuesday, supporters of the Islamic State (also known as ISIS), and social media accounts associated with the jihadist group have been reacting to the news, some of them condemning the US 'hypocrisy'.
This comes even as US embassies and other facilities of the US government world over have been on alert fearing retaliation from terrorist outfits in the wake of the report that highlighted the humiliation and the horrific treatment meted out to 9/11 terror suspects held at different places.
Tensions soared within the US defence and intelligence service, ahead of the release of the report that gives details of the torture inflicted on the suspects after the 9/11 terrorist attack.
While a few reactions from the ISIS-affiliated Twitter accounts seem bitter, many of them however, lack aggression.
"Spent force n irrelevant America purposely publish this report on torture to intimidate Muslims. Let me be the first to ignore this CIA crap (sic)," said 'Gold Dinar'.
"Islam is feared. It's why the kuffar are harsh towards Islam/Muslims #TortureReport," said @IbnShurmaan. "They don't know they're gonna have to answer to Allah (sic)"
The report has also sparked a never-before claim by the jihadist elements that says ISIS militants have made progress in the war against the West.
"Despite all this torture, killing and air strikes, Muslims are still fighting the US. Islam: The strongest motivating force. #TortureReport" --@Hamza_Muhajir
Others were more scornful in their criticism of the US and US-led coalition against ISIS:
"Seriously muslims. Cross reference the 54 nations that were involved in the torture program with the 60 nation coalition to fight ISIS.– Asad ad-Din Shirkuh

"Revelations of the Torture report of CIA – Tell me again how Civilized the US and Pupper of coalitions are? May Allah SWT Destroy You!"-- @Abu_Muwahi74
Meanwhile, Muslim scholars and critics have terming the US hypocritical following the release of the report:
"There will be people who say the CIA aren't representative of America but still claim that ISIS are representative of Islam #TortureReport," -- @bristolzfinest
A nation that doesn't live by it's own set of purported values has no right to police the world. #TortureReport... http://t.co/H33zEYWXVH

— Omar Suleiman (@omarsuleiman504) December 9, 2014
And they say Muslims have an extremism problem #SickNationOfMuslimHatingRacists #TortureReport pic.twitter.com/jPa2u6j2yK — Asghar Bukhari (@AsgharBukhari) December 9, 2014