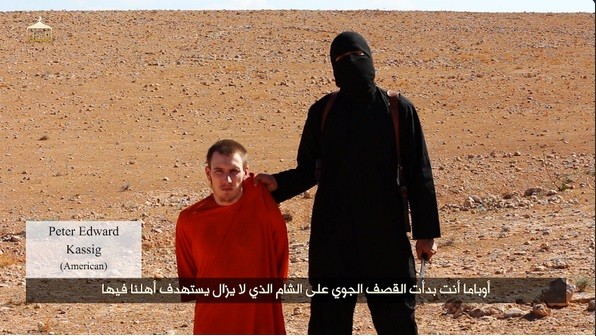 ISIS supporters on Twitter have declared Wednesday as the deadline for American hostage Peter Kassig to be beheaded by the jihadist group. If this is to be believed, the beheading will follow the murder of British aid worker in Syria, Alan Henning.
A video released earlier this month showed the beheading of Henning and included threats that Kassig would be the next in line to be killed. "Obama, you have started your aerial bombardment of the Sham which keeps on striking our people. So, it is only right that we continue to strike the necks of your people," the ISIS militant in the video had said.
This comes as a Fox News reporter has stated that ISIS is holding "at least four more American hostages" and is demanding $6.6 million in addition to the release of a number of prisoners in exchange of a young female from California kept hostage.
Kassig, a former US soldier, had gone to Syria in 2013 to help Syrian refugees when he was captured.
Several ISIS supporters have been sharing a tweet by Saad Alaqidy (@Saadalaqidy) which says "Wednesday is the last day of the time limit set for the release of American Soldier Kassig"
غداً الأربعاء هو اخر يوم للمهله التي حددتها #الدولة_الإسلامية المتعلقة بالاسير لديها" الجندي الامريكي #كاسيغ_بيتر pic.twitter.com/3TXCPfGISR

— saad alaqidy (@saadalaqidy) October 20, 2014
Wednesday is the last day of the time limit set by the #ISIS Related Balazer has " #American Soldier #Kaseg_petr #WBAMUN #USA18 #USA — خعآآخع بعد الحذف (@dr53aa530) October 20, 2014