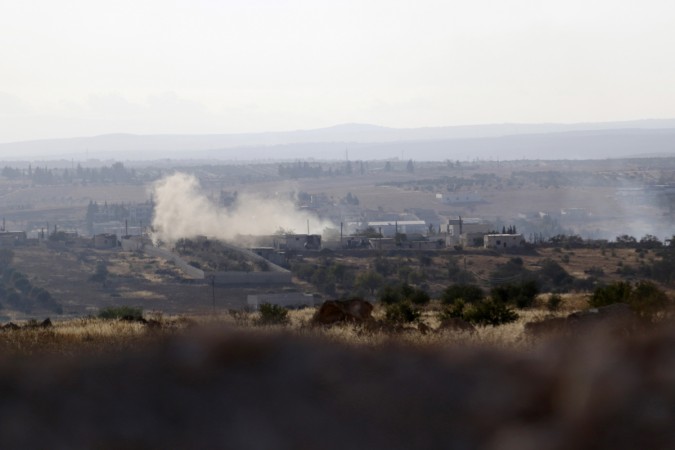 Syria nearly lost its second city and the provincial capital Idlib to the jihadists of ISIS and Jabhat al-Nusra on Monday, when hundreds of fighters stormed into the city. Horrific details are emerging on how the militants captured a newly installed governor's office and began beheading Syrian army officers mercilessly.
By the time the government forces recaptured the building, thereby averting a possible capture of the entire city, the notorious jihadists had already slaughtered 70 soldiers, including many senior officers, who were loyal to the Assad government. The incident sent the city into a never-before-seen chaos. A message to Damascaus apparently sent before the army was able to declare Idlib as saved said, "They were slaughtered," the Independent reported.
State television said the Nusra Front militants infiltrated Idlib at dawn and were confronted by troops and pro-government soldiers. Other reports suggest that the militants that staged the elaborate attack also included members of the Islamic State (ISIS) group. The Nusra Front said its fighters killed dozens, including officers, in the attack and seized buildings, Reuters reported citing State television.
Although the city of Raqqa has been in the hands of ISIS for months, Idlib lies between Aleppo and the coastal city of Latakia, both of which are still held by the President Bashar al-Assad's regime. There is a general consensus that had Idlib fallen on the hands of the militants, it would be one of the most devastating blow to the government.
Panic had engulfed the city at one point, when the Assad administration was told that the city had actually fallen after many security officers appeared to surrender the building of the headquarters of Governor Kheir Eddib Asayed. But the soldiers on the city's perimeter did not hear the news by sheer chance and continued fighting hundreds of jihadists trying to break into Idlib. Reports suggest they were still holding off the attackers when the building was ultimately recaptured.
A home to more than 200,000 people, the city of Idlib lies only about 30 miles from Syria's largest city, Aleppo.