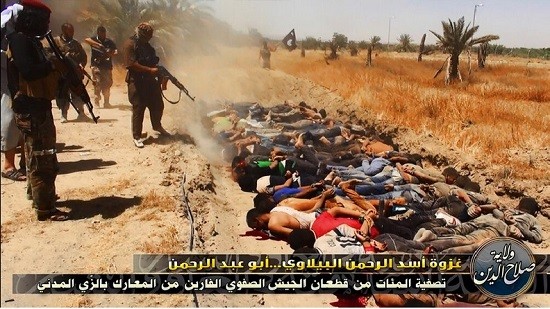 Based on the analysis of the mass execution pictures of Shias posted by the ISIS, the Human Rights Watch (HRW) claims the killing fields are located in Tikrit near Saddam Hussein's former palace.
The HRW, which has been closely monitoring human rights violations in Syria and Iraq, noted that at least 190 men have been confirmed to be killed in the mass execution by the ISIS militants. The report emphasized that the number could very well be higher but it could not be independently verified.
The group was able to pinpoint the location of the execution sites, by comparing the ground features and landmarks in the photographs released by the ISIS. Based on the analysis, they have found two of the trenches where ISIS gunmen assassinated dozens of captured Iraqi Shia soldiers.
Using satellite imagery from 2013 and publicly available photographs from Tikrit, the report stated that the killing fields are located about 100 meters north of the Saddam's Water Palace, next to the Tigris River.
On 12 June, the ISIS - through its now suspended Twitter accounts - claimed to have executed 1,700 Shia members of the army. The ISIS Twitter accounts claimed that they "exterminated" the Shia soldiers while Sunnis were forgiven.
The group also posted videos of hundreds of captured men in civilian clothes who - according to them - surrendered at the nearby Speicher military base.
By 14 June, the ISIS had posted a total of 60 photos which confirmed that the mass killings indeed took place.
Some of the pictures showed masked ISIS fighters loading captives in civilian clothes onto trucks and forcing them to lie in shallow trenches with their hands tied behind their backs. The last set of images showed the masked gunmen firing at these men.
The satellite images, however, have not been able to locate the bodies of the executed men. The Iraqi government, which confirmed the mass killings of its men, claimed bodies of soldiers were found floating in the Tigris.
Iraqi human rights minister Mohamed Shia Sudani said at a news conference that the bodies of some of the 175 air force recruits, who had been killed, were thrown into the Tigris and the others were buried in a mass grave.
ISIS wants to establish a Sunni-dominated Islamic kingdom, based on Sharia law, in Iraq.