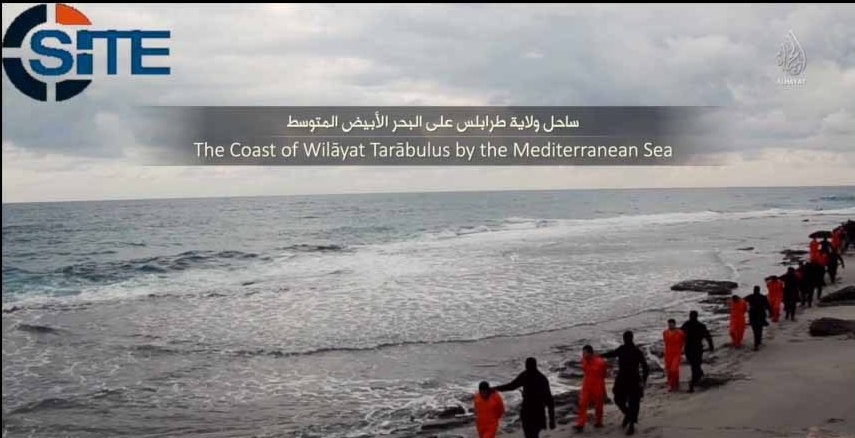 Update:
Egypt on Monday declared a war on Isis claiming to have bombed several Islamic State targets in Libya only hours after the jihadist outfit released a video purportedly showing the beheading of 21 Egyptian Christians.
Airstrikes targeted camps, training sites and weapons storage areas of the organisation, in the dawn attack according on State TV. This comes after President Abdel Fattah al-Sisi, angered by the video, said that the country had the "right to respond".
According to State TV reports, Egypt's military said Monday morning's airstrikes were designed to "avenge the bloodshed and to seek retribution from the killers". "Let those far and near know that Egyptians have a shield that protects them," the military said in a statement adding that all planes involved in the bombardment had returned successfully.
First Draft:
The dreaded Islamic State militants have released a video purportedly showing the beheading of 21 Egyptian Coptic Christians – one of the various grisly acts the extremist groups have perpetrated in recent times.
This is the first time the outfit, composed of hardliner Sunni jihadists, has released an official video showing brutal slaughtering outside its controlled territory of Syria and Iraq. The footage released on Sunday is noted to be slightly different from previous videos released by affiliates of the group, especially with regard to the quality of editing, the New York Times reported. While earlier footages were shaky and suggestive of amateur production, the latest five-minute clip appeared to be professionally edited and was cinematic in nature.
The footage shows images of the Egyptian Christians wearing the usual orange jumpsuits worn by every ISIS hostage. Each of the hostages is led by a black-clad, masked and knife-wielding executioner. The sound of crashing waves accompanies the actions portrayed in the film. The hostages are then made to kneel down before they are brutally beheaded one by one.
The lead jihadist in the video, who is seen wearing a brown mask over his face, thrusts his dagger towards the camera saying the following in fluent English:
"Oh people, recently you have seen us on the hills of as-Sham and Dabiq's plain, chopping off the heads that have been carrying the cross for a long time.
"And today, we are on the south of Rome, on the land of Islam, Libya, sending another message."
Egypt's president, who was quick to react to the incident, has threatened a "suitable" punishment for the killings.
The United States also condemned the purported murder calling the footage "despicable and cowardly."
Noting that the group's barbarity "knows no bounds," White House press secretary Josh Earnest in a statement made on Sunday, added that there was a need for a political resolution to the conflict in Libya.
French President Francois Hollande also expressed his "concern at the expansion of Daesh in Libya," referring to the group with an alternative name.