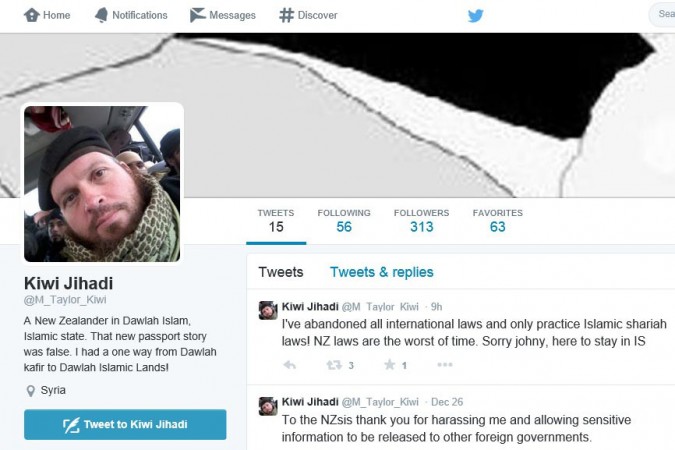 A New Zealand man, who is understood to be fighting alongside ISIS jihadists in Syria, accidentally revealed his precise location by posting geo-tagged tweets, media reports say.
Earlier this week, the man recognised as Abu Adbul-Rahman aka Mark Taylor deleted 45 tweets after he discovered that they gave away information on his whereabouts.
Taylor's Twitter account, @M_Talor_Kiwi, has been suspended ever since.
Researcher Jeff Weyers, who runs the open-source intelligence group iBrado, was able to pinpoint Taylor's location in early December to a precise house in al-Taqbah – a Syrian town located near the ISIS dominated al-Raqqa, The Guardian reports.
Taylor, who had a travel restriction, fled New Zealand in May 2012 and was seen in Syria in June last year in a YouTube video.
"My current location is in Syria and my commitment is for jihad for Allah, and his Messenger," he said in the video posted that month.
Taylor was initially cited by New Zealand media as saying that he would remain in Syria until he achieved "martyrdom" but appeared to have changed his mind later when he said that the need of the hour in Syria seemed to be humanitarian aid and support.
In a Facebook post in June, Taylor proudly displayed his burnt New Zealand passport saying that he had taken a "one-way trip" to Syria and decided "no going back". Since he first travelled to Syria, Taylor also has reportedly been in touch with the New Zealand passport office to get a replacement travel document.
Taylor was on a watch list for visiting another New Zealand radical, Muslim bin John, in Yemen in 2009, The Guardian notes. John was later killed in a drone strike in Yemen in November, 2013.