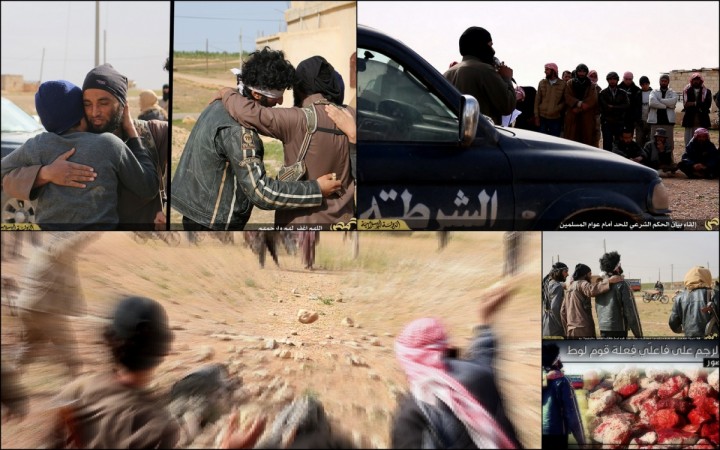 A new photo report released by Islamic State (Isis) militants on Thursday shows the Sunni terrorists embracing two "gay" men minutes before brutally stoning them to death in the Syrian province of Homs.
This is the second incident of stoning reported from Homs, located 162km from Damascus, this month. Several Isis followers and sympathisers who widely shared the images on social media hailed the "stoning" as a "just and righteous" act.
However, in the report Isis did not explain whether the men were tried according to Sharia law. Even though the jihadist group has revealed that before the stoning the two men had confessed to their "sins", it has not stated on what basis it arrests and executes homosexual men.
The series of images show the two blindfolded men standing together in a desert clearing, believed to be the outskirts of Homs. The Isis men are then seen hugging and consoling them. One of the Isis fighters is even seen smiling while embracing the victims.
Isis sympathisers on social media said that the fighters exhibited their "compassionate side" by hugging the "sinners".
A Daily Mail report noted that the two gay men were most likely given medicine to reduce their anxiety, hence appeared so calm before being stoned to death.
The later images show scores of Isis men stoning the two "sinners", while a crowd watched the execution. In the final images, the men are seen lying on the ground with blood splattered all around.
Earlier this month, Isis had released images of "homosexual" man being stoned to death at Homs. Images of the incident had showed the accused "gay" man made to run through a field blindfolded, while the militants hurled stones at him. He is later shown lying dead next to hole, dug for burying him.