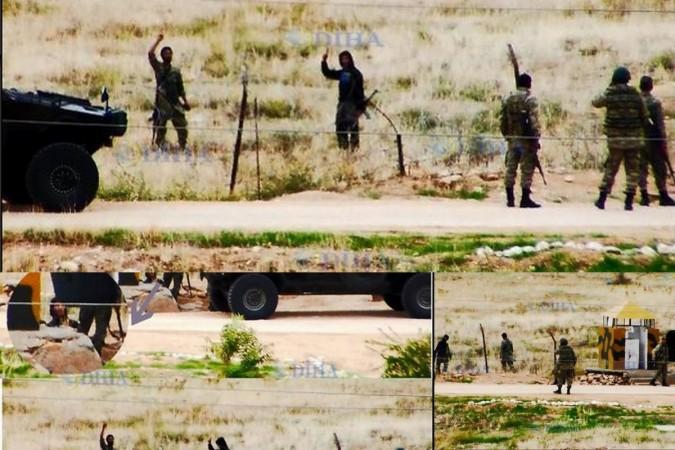 A recent video released on YouTube by local news channels in Turkey, is being hailed as a clear evidence of Ankara sharing close ties with ISIS militants.
Since the beginning of the ISIS invasion, there has been several reports that have found Turkey guilty of assisting the Islamic State militants in its attack on Kobani, a Kurdish city.
In the footage, two ISIS fighters are seen rummaging through the belongings abandoned by the Kurdish nationals who have fled to Turkey, after their city was attacked by the Islamic State.
The two ISIS fighter even burn up the belongings of the Kurdish refugees. The news crew, which captured the entire scene from the Turkish side claim that the incident took place near the eastern part of Kobani, close to the border.
The two ISIS militants are then seen casually walking up to the Turkish border, where a Turkish patrol van pulls up. The ISIS fighters and the Turkish soldiers are then seen talking. A few minutes later, they literally wave goodbye to each other and allow the militants to quietly walk back.
The Turkish Army in its official statement claimed that there was no 'fraternising.'
" The region in which the footage was recorded is near the Karaca border station (Suruc/Sanliurfa). The Cobra type vehicle and the soldiers are part of the team patrolling the border. However, they spot two people approaching the border from near the railway tracks, the team go to warn the two individuals that the area is a minefield and that they should move back, otherwise they were authorised shoot," the statement read.
Also: Turkish President Erdogan's Daughter Heads 'Covert' Medical Facility for Treating Injured Isis Fighters
Also: Hundreds of Isis Supporters Held Eid Prayers in Istanbul A Day before the Suruc Blasts
Watch ISIS-Turkish Soldiers Fraternising Video
However, this is not the first time that a link between ISIS and Turkey has been established. Earlier this month American TV journalist, Serena Shim, an American citizen with Lebanese origin had reported that Turkey was allowing Islamic State militants to cross into Kobane.
Following her report, Shim was accused of spying by Ankara and a few days later, she was killed in a 'suspicious' car accident.
Watch Video of ISIS Crossing into Kabana from Turkey
Since the attack on Kobani (also spelled Kobane) Turkey, despite being its closest neighbour has refused to offer help to the Kurdish fighters, whom it considers 'a terrorist group.'
Reports have found that Turkey, besides helping the Islamic State militants to easily enter Syria through its borders, has also supplied target-locations on Kurdish militia to ISIS.