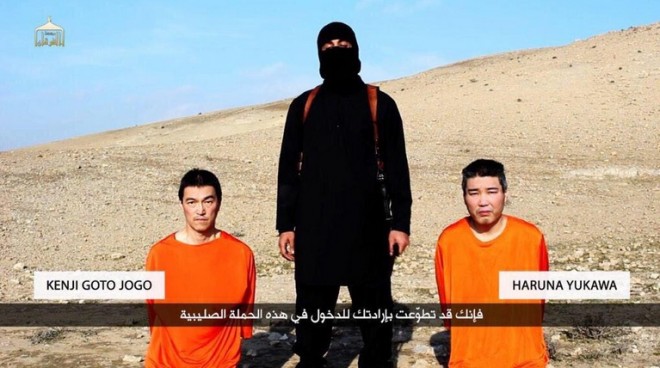 The Islamic State has executed one of the two Japanese hostages, Haruna Yukawa, after Japan refused to pay the ransom of $200 million that the group had demanded within 72 hours.
Hopes that the terror outfit would spare the life of hostages faded as they released a video purpotedly showing the beheading of Yukawa.
The other hostage, journalist Kenji Goto, is seen pleading for his life annd revealing a hostage swap plan in the nearly three-minute video.
Speaking is seen saying on video: "Abe, you killed Haruna. You did not take the threat of my captors seriously and you did not act within that 72 hours."
Earlier on Friday, even as the deadline for the ransom demand expired, several ISIS-affiliate Twitter accounts had said that the two men were executed.
Some accounts tweeted that a video of the executions was recorded and will be released.
Japanese Prime Minister Shinzo Abe said the reported execution was "outrageous and impermissible" and that Goto must be released immediately.
"Such an act of terrorism is outrageous and impermissible, which causes me nothing but strong indignation.
"Again, I strongly demand that Mr. Kenji Goto not be harmed and be immediately released. The government of Japan will, in its entirety, do its utmost in order to have him released."
The deadline expired at 2.50 p.m Friday, Tokyo time (12:50 a.m. ET).
While Japan had made clear it would not 'bow' down to the terrorists, officials were scrambling over three days to establish contact with the terror group to resolve the crisis.
Japanese Prime Minister Shinzo Abe also requested help from allies in the Middle East, days after he pledged $200 million to aid the nations in their fight against ISIS.
Abe had reportedly spoken with King Abdullah of Jordan, Turkish President Recep Tayyip Erdogan and Egyptian President Abdel-Fattah el-Sisi since the video emerged on Tuesday.
Japan was stuck in a Catch-22 situation over the ransom demand as the country was part of a G8 communique in 2013, which said that the nations "unequivocally reject the payment of ransoms to terrorists".
This was the first such execution of Japanese hostages by ISIS, and their demand for the exact amount of money as Japan pledged to nations fighting the terror group is seen as a retaliation.
ISIS has beheaded several US and UK nationals in the past, especially as the two countries have not heeded to ransom calls by the group.