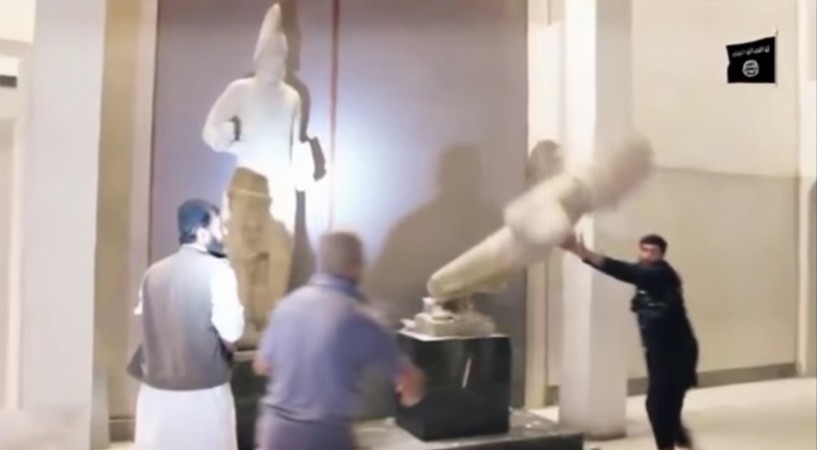 A new Isis video published on Thursday showed jihadists attacking and destroying centuries old Iraqi artifacts, some of which are reported to be Assyrian antiquities from as far as back the 7th century BC.
The men in the video appear to break the monuments using sledgehammers and drills saying the artifacts encouraged 'idol worship' which the extremists believe are prohibited in the Islamic religion.
An unidentified man in the video is heard saying: "The Prophet ordered us to get rid of statues and relics, and his companions did the same when they conquered countries after him."
The priceless artifacts, statues and relics destroyed by the Islamic State militants in Mosul's central museum date back to the Assyrian and Akkadian empires and the incident is likely to hurt a great deal on the cultural heritage that the place has always come to symbolise, media reports noted.
The five-minute video starts with a verse from the Quran which talks about 'idol worship'. A man then comes to the camera, condemns Assyrian and Akkadians as polytheists and justifies the destruction of the statues. He also describes the way prophet Muhammad destroyed the idols in Mecca, and justifies the action.
Islamic State video shows militants smashing ancient artifacts in Iraq http://t.co/eF9EqvzNhL #RadicalIslam #tcot pic.twitter.com/dr6Lgoq4eH

— Linda Suhler, Ph.D. (@LindaSuhler) February 26, 2015
"These statues and idols, these artifacts, if God has ordered its removal, they became worthless to us even if they are worth billions of dollars," the man says before the group of Isis fighters smash all the statues they come by with hammers and push them to ground and smash them into small fragments.
At one point a man is seen drilling through and destroying a winged bull which is an Assyrian protective deity dating back to 7th Century BC.
The rats Da'esh destroyed a real Assyrian Lamassu, the Winged Human-Headed Bull! Yes, rats is my new label for them pic.twitter.com/2gR1kbUP0i

— Dima S. ديمة (@YasminWaQahwa) February 26, 2015
"The birthplace of human civilization...is being destroyed", The Guardian quoted Kino Gabriel, a leader of the Syrian Military Council as saying. "In front of something like this, we are speechless...Murder of people and destruction is not enough, so even our civilisation and the culture of our people is being destroyed."
Watch the video below: