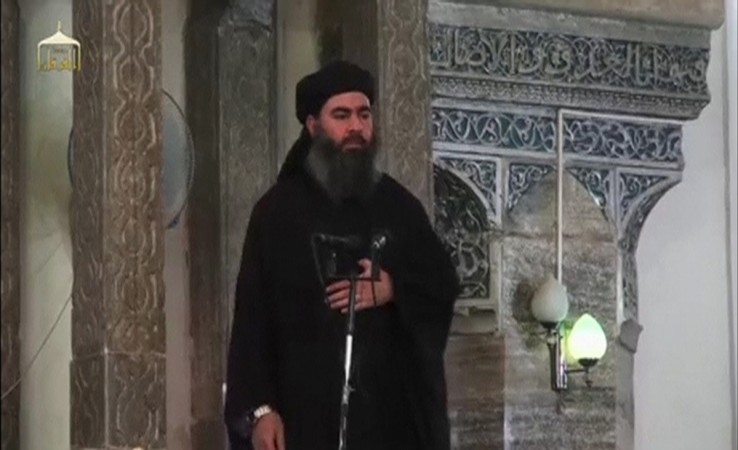 In what appears to be the Islamic State's conspiracy to deliberately confuse the mainstream media and the members of the public on Monday, the media outlet of the group first announced the 'death' of its leader Abu Bakr al-Baghdadi before proving it as a wrong statement.
A Twitter account affiliated with 'Al-I'tisaam', a media outlet of the ISIS terrorist group first wrote that it would publish details regarding the 'death' of IS leader and said that there were talks going on about his succession.
The piece of news was quickly picked up by some mainstream media publications such as the Iranian government owned Al Alam news network and popular Iraqi publication, Iraqinews.com.
However, the information and photographs that later appeared on the Al I'tisaam Media's Twitter page contained images of another ISIS militant's body instead of Baghdadi.
This comes at a time when there are lots of confusion on the issue, with the Pentagon unable to confirm even the alleged airstrike that is widely reported to have injured the infamous militant group's leader.
Speculations are rife that the entire story could be the jihadists' master strategy to give a false impression to the US-allied forces that the hardliner extremists might be yielding to the deadly western onslaught.
The militant group has, however, not retracted the statement, confirming that the leader was indeed injured.
A Twitter account affiliated to the spokesperson of the outfit, Abu Mohammed Al-Adnani, said on Sunday: "The leader of the ISIL Abu Bakr al-Baghdadi has been injured" adding:
"Do you think the state of Khilaf will end by the death of the Caliphate?
"We assure for the State that the Amir Abu Bakr al-Baghdadi is fine and we ask his followers to pray for God for his safety."
Iraq's interior ministry was widely cited by various media on Monday as saying Baghdadi was hit last Saturday while in a meeting with the militants in the town of Qaim in Iraq's western Anbar province.