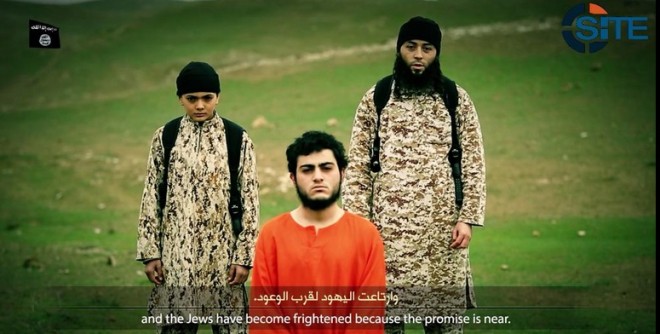 In yet another appalling video released by the Islamic State, a child fighter of about 10 years of age is seen shooting dead a man the group accused of being an Israeli spy.
The slick video shows Muhammad Musallam, an Israeli of Palestinian descent, kneeling before an armed child.
After some footage of Musallam's 'confession', in which he claims that he was recruited by Mossad to spy on Israeli weapons and links with Palestine, an adult fighter instructs the child to execute the man.
The boy is then seen shooting Mussalam point blank in the head, and fires two more shots at him even as he slumps to the ground, as a voice message "And our eyes are on Jerusalem" is played out.
The Islamic State had carried an 'interview' with Mussalam in its magazine Dabiq in February wherein the latter had confessed to his role as a Mossad agent and had said he was sent by the agency to infiltrate the group.
Mussalam's family has, however, claimed that he was not a Mossad agent and had, in fact, left home to join the ISIS.
"Mohamed told me and his brother that ISIS took him. They said you will have girls, money, cars, villas, paradise, but afterwords he discovered that there is nothing," the Israeli's father told CNN on Tuesday.