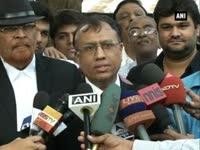 DG Vanzara, an accused in the fake encounter cases of Ishrat Jahan and three others, walked out of the Sabarmati Central Jail, on Wednesday, after spending almost seven and half years in prison.
Just after his release, Vanzara said: "Surely, Acche Din (Good days) have returned for me and other Gujarat police officers," PTI reports.
The former top cop of Gujarat was granted bail by the Bombay High Court after he signed a personal bond of Rs 2 lakh. He has been barred from entering Gujarat.
As he stepped out of the jail premises, a large number of supporters greeted him with garlands.
Vanzara was the head of Maharashtra's Anti-Terrorism Squad (ATS) when the fake encounters of Ishrat Jahan and others took place. Apart from this, CBI accused him of being involved in the fake encounter cases of Soharabuddin Sheikh and Tulsi Prajapati as well. He was granted bail in the Soharabuddin case in 2014.
Vanzara killed Ishrat Jahan, 19, and three others, Pranesh Pillai (alias Javed Gulam Sheikh), Amjad Akbarali Rana and Zeeshan Johar, in a fake encounter on 15 June, 2004 for their alleged links with Lashkar-e-Toiba. The terrorist group had arrived in Gujarat to kill then-Chief Minister Narendra Modi.
Vanzara was the Deputy Inspector General of Police when he was arrested in March 2007.