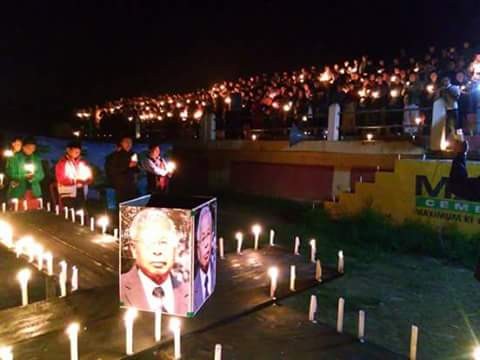 The demise of Isak Chishi Swu, co-founder and chairman of the Nationalist Socialist Council of Nagalim (Isak-Muivah) or NSCN-IM, didn't attract much media attention, and several Indians may have heard his name for the first time, but he was a tall personality that Nagas looked up to. He, along with NSCN-IM general secretary Thuingaleng Muivah, kept the fire of Nagas freedom struggle burning through the decades.
Born in 1929 in Chishilimi village of Zunheboto district, Nagaland, Isak graduated from St. Anthony's College, Shillong, before joining the Naga National Council (NNC) that started Nagas independence movement under the leadership of Angami Zapu Phizo in 1946.
He joined the NNC in 1950s and served in various capacities, including as its foreign secretary, but the group's signing of the infamous Shillong Accord 1975 with the government of India left him dejected. He along with Thuingaleng Muivah and S.S. Khaplang formed the National Socialist Council of Nagaland (NSCN) in 1980 to take the independence movement forward.
The NSCN fell apart in 1988 over some disagreement between the founding members -- and that led to the creation of NSCN-K led by S S Khaplang, and NSCN-IM with Isak Chishi Swu as the chairman and Thuingaleng Muivah as the general secretary.
Isak witnessed bloodshed and violence meted out to both the Naga freedom fighters and the civilians by the Indian Army in an attempt to crush the independence movement. Hundreds of civilians were reportedly killed, raped and tortured during the struggle for self determination, but that didn't weaver him a bit in taking the aspiration of the Naga people forward.
A soft-spoken and good human being that he was, he, along with Thuingaleng Muivah, took to peaceful means of resolving the Naga sovereignty movement. The NSCN-IM, which is named after the two stalwarts, signed a ceasefire agreement with the government of India in 1997.
Several rounds of talks were subsequently held between the two sides for over a decade without any breakthrough; however, he didn't give up his dream of a peaceful resolution. A glimpse of hope came last year when the government responded positively to the demands of the Naga insurgent group. However, as fate has it, he was hit by bad health. The "historic" Peace Accord, a framework agreement for Naga peace, was signed on Aug. 3, 2015, without his presence.
Having spent almost all his life fighting tirelessly for his people, he would have had the desire to witness the historic moment, but he didn't want anything to come in the way of a speedy resolution to the Nagas' movement for self determination. His only dream was to peacefully resolve the Naga issue with the government, but he couldn't see that happen.
Prime Minister Narendra Modi has condoled the death of the Naga leader, but will he do the honour of fulfilling his dream – posthumously?