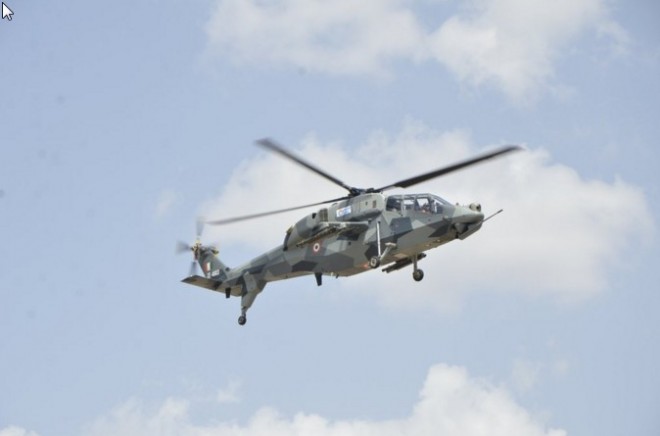 The Indian Air Force (IAF) is gearing up for a massive combat and firepower drills at Pokhran, Rajasthan on March 18. A defence ministry tweet has confirmed the participation of another aircraft, the Hindustan Aeronautical Limited's (HAL) indigenous Light Combat Helicopter (LCH), which adds to the list of 181 aircraft participating in the combat drill.
Recently, the LCH successfully underwent a 70mm rocket firing, thus achieving a milestone in the development of the combat helicopter. Further, according to PTI, the rockets were fired from the LCH prototype, TD-3, in its weaponised configuration.
In 2015, the 5.5-tonne class combat helicopter had successfully completed basic performance flight testing and outstation trials for cold weather, hot weather and hot- and high-altitude testing.
HAL Chairman and Managing Director T Suvarna Raju said in a statement that the trail gives them the confidence to pursue certification firing trials, which is planned in April-May 2016.
HAL will be continuing its weapons integration that includes rocket, turret gun (20 mm) and air-to-air missile on LCH. The LCH is a multirole combat helicopter with several advanced features.
Its addition, the Iron Fist 2016 will add to the list of aircraft like the Su-30 MKI, LCA Tejas, Mirage-2000, Jaguar and other IAF aircraft in its inventory.
This exercise will also be showcasing the network centric abilities of the IAF. The public will also be able to witness the event live, following its broadcast on the national TV, Doordarshan (DD).
The event will also be highlighting the fire power of indigenous multi-role fighter aircraft, the LCA Tejas, which will be seen firing the R-73, short-range air-to-air missiles of the Russian origin and the Griffin missiles, precision-guided munition from Raytheon, a U.S. defence company.
We will also see India's frontline air superiority fighter Su-30 MKI test-firing the Astra missile, a Defence Research and Development Organisation (DRDO) developed beyond-visual-range air-to-air missile (BVRAAM).
The defence ministry has released a promotional video that is a teaser to what the public can expect from India's Air Warriors.
Here is the promotional video from the defence ministry: