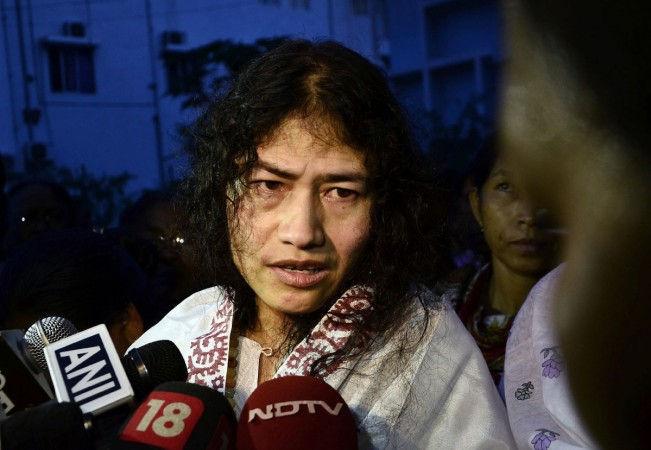 Irom Sharmila has been forcibly arrested from her protesting venue on Friday morning for continuing her hunger strike against the Armed Forces Special Powers Act in Imphal, despite being acquitted by the Manipal court.
Upon refusing to give up fasting and undergo medical check-up, the police reportedly dragged her away from the tin shack where she has been protesting again after her release on Wednesday.
Sharmila was reportedly force-fed for the last time on Wednesday before release and she has not taken even water since then.
To ensure that she eats or drinks even after her release, the court handed over the authority to the state giving it the responsibility for her health and permitted it to nasal-feed her if required.
Following the orders, the medical team and police arrived at her strike venue on Thursday night for her check up but Sharmila resisted.
"I have said I will not allow a medical check-up. I don't know why they are disturbing me," NDTV quoted Sharmila.
However, Sharmila has refused eat or drink and said she would not let anyone force-feed her this time around.
"I don't feel hungry," IBNLive quoted her as saying, "What I feel is emptiness."
Sharmila was charged for committing suicide by not eating anything continuously for 14 years while protesting the AFSPA, alleged to have violated human rights in the state by killing innocent citizens.
However, on Tuesday, Manipal court had asked the state police to release Sharmila, who was kept under house arrest. The court stated that the allegations were not supported with evidences to prove her guilty of committing suicide.
After the release, Sharmila went back to her 14-year-long fast again. She has been demanding the act's refutal from the states since 2000.