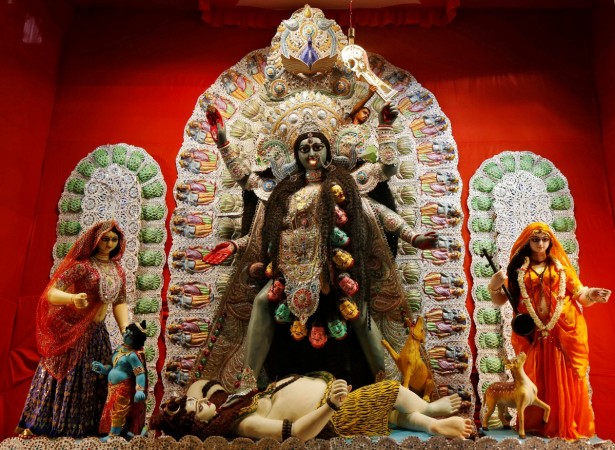 In a bizarre incident, a 67-year-old British woman named Janet Farrar has claimed she turned into Goddess Kali after encountering a near-death experience in Dublin, the capital of the Republic of Ireland.
Farrar, who is a Wiccan (neo-pagan religion) priestess, said her heart stopped five times as she turned blue. She also claimed her "body was possessed by Goddess Kali," Express (UK) reported.
"I turned into the goddess Kali. I turned blue and my tongue was lolling out and I was dying." Farrar was quoted by Express as saying.
The incident happened when Farrar went to bed one night in January and realized she was starting to feel a pain in her chest, said the report. Her second husband, Gavin Bone, who is a 54-year-old nurse, gave her chest compressions after her heart temporarily stopped. She was soon taken to a nearby hospital in an ambulance.
"He said don't die on me, you. My heart stopped four times — once at home and four times in the ambulance. He thought he was going to lose me. In the hospital they gave me a 50-50 chance that I would live or die," Farrar told Express.
The doctors at the hospital provided treatment following which she recovered well. She later claimed that Goddess Kali had left her body.
As per reports, Farrar and her husband have been involved in witchcraft and Paganism for many years. They were even the top speakers at the annual Occult Festival in Glastonbury, United Kingdom. The couple has also written multiple books on the Wiccan religion.
In Hindu religion, Kali is known as the Goddess of the destruction of evil forces, power and creation. She is portrayed as a blue-skinned woman who embodies Shakti or feminine energy, creativity and fertility. She is also often associated with violence but is also considered a motherly figure in Hinduism.
Earlier, this month, a nanotechnology researcher from Bhopal, Madhya Pradesh, killed himself by jumping into a lake after Goddess Kali apparently told him to do so in his dream. He drowned himself on February 11 as he was trying to save his gay partner, according to a video message he left behind as a suicide note.