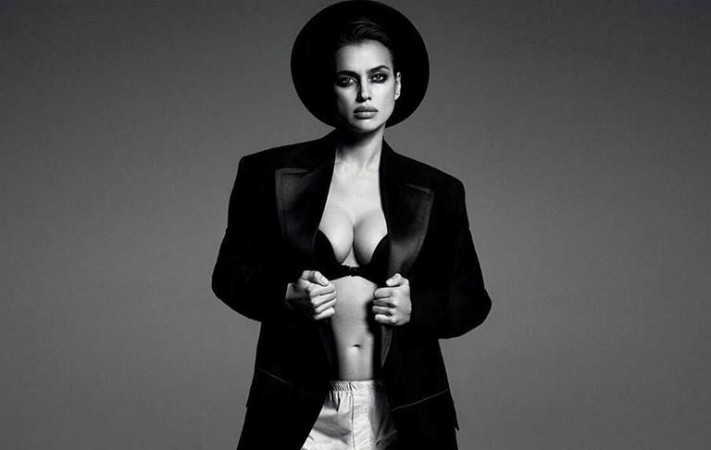 Drop everything and check out Irina Shayk's new hot Instagram post. The model just stripped down for a sultry Instagram post to promote a book.
The 31-year-old teased the promotion a few days ago when she shared a photo from the shoot. Promoting a book by Mert Alas and Marcus Piggott, Irina set Instagram on fire as she strode away from the camera on a pair of stilettos wearing absolutely nothing, flashing her derriere.
Also Read: Bikini-clad Emily Ratajkowski flaunts assets after teasing fans with seductive photo in bed video
There are a series of shots that comprised the sizzling black and white video. For a few seconds, Irina is seen walking through a room flaunting her sculpted figure flashing her bare derriere. In another moment, she is seen clinching her modesty with her hands and seducing to the camera.
The Russian model is also seen lying nude with her booty protruding with the huge book she is promoting covering her torso.
Letting the focus stay on her stunning body and the book, Irina sported bare minimal make-up. Sticking to smokey eyes, the gorgeous diva wore no jewellery and let her tresses fall down her bare shoulders which added the oomph factor to the video.
Sharing the video on the social media platform, she captioned it, "Do u know the book of love? Mert and Marcus 20 years of work limited editions and signed book is out!" You can check out the video here.
The video comes six days after photographer Mert Alas shared a photo of Irina naked on the bed with his upcoming book placed next to her. Irina also made headlines earlier this month when she graced the cover of Vogue Italia.
Irina, who has been dating actor Bradley Cooper since April 2015, welcomed their first child earlier this year. A source told E! News that the new parents will try for baby number two in 2018. "Both her and Bradley want another baby. They will be trying next year... Irina loves being a mother," the source said.