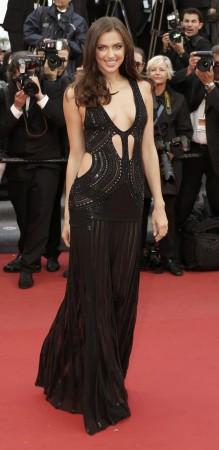 Model Irina Shayk's cryptic message about wanting a loyal and honest man when asked about the qualities she looks for in a guy has once sparked rumours that the footballer might have been cheating on the Russian model.
Shayk and Ronaldo told the media last month that they weren't together anymore and although a specific reason for the split was not given, rumours have been swirling around that the footballer hasn't been faithful to his girlfriend of five years.
"After dating for five years, my relationship with Irina Shayk has come to an end," the Real Madrid striker said in a written statement announcing their split. "We believed it would be best for both of us to take this step now. I wish Irina the greatest happiness."
A new report claims that it was Shayk who took the painful decision to part ways after "confronting" the footballer on New Year's Eve at the couple's home in Madrid.
"She was in shock and completely devastated," a close friend told HELLO! online. "It wasn't a decision she took lightly. She then left immediately and spent New Year's Eve crying alone in the airport before flying to the Maldives, where she spent her birthday alone."
Although the source did not say if infidelity was a cause for the split, Shayk's friend added that the model decided to confront her beau as she could no longer ignore the signs.
"Irina always chose to stand by her man. There was no way around it as the truth was staring at her in the face," her friend added. "After much thought and consideration, she felt she couldn't ignore the signs."
Meanwhile, the newly single model opened up about her Valentine's Day plans to E! Online saying she hasn't made any yet, but hopes to stay in watching a "cool movie".
"A lot of food, expensive bottle of champagne, because I'm Russian. I love an expensive bottle of champagne. Chocolate and [a] cool movie. Like yesterday I saw Pretty Woman and that felt like Valentine's for me. It was really nice," she said.