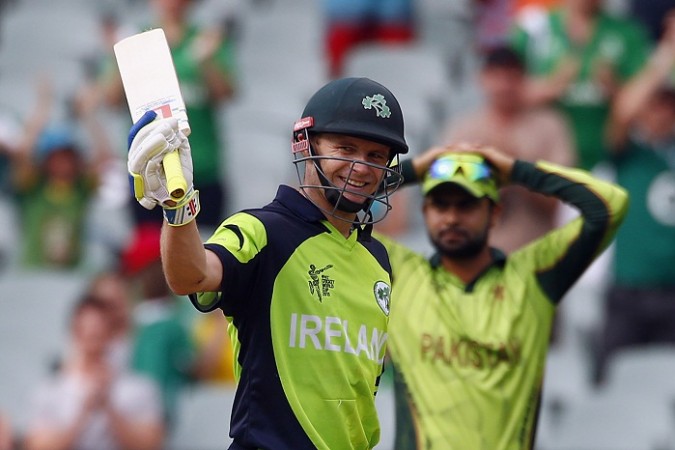 Afghanistan are gradually rising their stature in world cricket, displaying brilliance in all departments of the game. They defeated Scotland in the recently concluded two-match ODI series and will be keen to come up with an equally-good performance against Ireland in the upcoming five-match series, set to start from Sunday.
No doubt, Afghanistan will be on a high after their victory over Scotland, but Ireland may not be a cakewalk. Though they lost to Sri Lanka in their ODI series, Ireland are capable of making a comeback.
The Irish team comprises some quality players, making the series interesting, not to talk of the home support they would enjoy. Talking of players in both the camps, there are some impressive batsmen and bowlers who have led their respective teams to victories and will be keen to live up to their reputation in this series as well.
If Ireland have players such as William Potterfield, Ed Joyce, Paul Stirling, Kevin O'Brien, Afghanistan too have a formidable team comprising Mohammad Nabi, Najibullah Zadran, Asghar Stanikzai and Mohammad Shahzad.
Ireland are a strong batting team, boasting of players such as Potterfield, but their relatively-weak bowling department could be a problem against Afghanistan.
If Shahzad gets going with the bat, Afghanistan will be in the driver's seat as was experienced by Scotland, with the opener scoring 84 runs to lead his team to victory. Rahmat Shah is another flamboyant batsmen. With bowlers such as Mohammad Nabi and Zadran, Afghanistan are a comprehensive side.
At the end of the day, the team that is consistent throughout the five ODIs will have an edge over the other and clinch the series.
Complete squads
Ireland
William Porterfield(c), Kevin O'Brien, Tim Murtagh, Andy McBrine, Sean Terry, Gary Wilson, Stuart Poynter, Paul Stirling,John Anderson,Ed Joyce, Tyrone Kane, Mark Richard Adair, Peter Chase, Barry McCarthy
Afghanistan
Mohammad Shahzad, Mirwais Ashraf, Gulbadin Naib, Rahmat Shah, Mohammad Nabi, Hamid Hassan, Noor Ali Zadran, Javed Ahmadi, Amir Hamza, Yamin Ahmadzai, Asghar Stanikzai, Samiullah Shenwari, Najibullah Zadran, Rashid Khan, Dawlat Zadran, Shapoor Zadran
Ireland vs Afghanistan complete schedule
1st ODI
Date: July 10
Time: 10:45 a.m. local time (3:15 p.m IST)
Venue: Civil Service Cricket Club, Stormont, Belfast
2nd ODI
Date: July 12
Time: 10:45 a.m. local time (3:15 p.m IST)
Venue: Civil Service Cricket Club, Stormont, Belfast
3rd ODI
Date: July 14
Time: 10:45 a.m. local time (3:15 p.m IST)
Venue: Civil Service Cricket Club, Stormont, Belfast
4th ODI
Date: July 17
Time: 10:45 a.m. local time (3:15 p.m IST)
Venue: Civil Service Cricket Club, Stormont, Belfast
5th ODI
Date: July 19
Time: 10:45 a.m. local time (3:15 p.m IST)
Venue: Civil Service Cricket Club, Stormont, Belfast