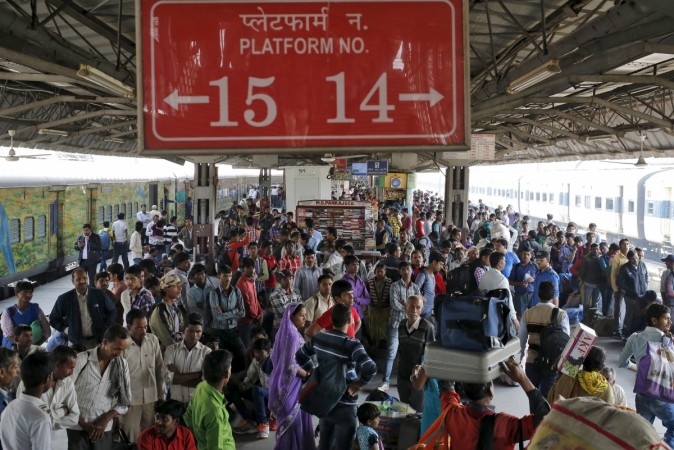 Indian Railway Catering and Tourism Corporation (IRCTC), an Indian Railways subsidiary that handles catering, tourism and online ticketing for the state-run rail network, sold 200 million tickets in 2015-16 and earned Rs. 22,500 crore. It aims to increase this business by 20 percent in the current fiscal.
"We booked nearly 200 million tickets this year (2015-16) compared to 183 million tickets in the previous financial year. In the current financial year, total tickets booked should grow by 20-25 million," AK Manocha, managing director at IRCTC, told Business Standard.
The targeted earnings from ticket sales would translate to about Rs. 27,000 crore for the financial year 2016-17.
IRCTC's total income rose 34 percent to Rs. 1,490 crore, while net profit increased 20 percent to Rs. 130 crore in 2015-16, according to Manocha.
IRCTC's e-ticket sales collection has witnessed a steady increase over the years, to Rs. 20,621 crore in 2014-15 from Rs. 8,000 crore in 2010-11, according to its annual report for FY2015.
The number of tickets booked online doubled during the period, to 183 million in FY15 from 97 million in 2010-11, showing the increasing preference among passengers to book tickets through the portal.
During the financial year 2014-15, total income grew 19.6 percent to Rs. 1,141 crore from Rs. 955 crore in the preceding year, while net profit was Rs. 130.63 crore, up 81 percent from Rs. 72.01 crore in 2013-14, according to the report.
From a segment perspective, online ticketing generated Rs. 308 crore, or 27 percent of its total income in 2014-15, lower than travel and tourism that contributed Rs. 362 crore or 32 percent. The balance came from catering business.
Tourism is offered as packages covering various themes such as educational tours, chartered trains, luxury trains and Buddhist circuit trains.
Bottled drinking water also contributes to the company's business. IRCTC produced 11.95 crore bottles of "Rail Neer" and earned Rs. 95 crore from this segment. It has five bottling planst at Delhi, Patna, Palur, Ambernath and Amethi.
Indian Railways ferries about 23 million passengers everyday and employs about 1.3 million people. Besides, it has 1.38 million pensioners.
IRCTC was in the news recently for alleged hacking of its website. The company, however, denied it in a series of tweets.
Alleged data thft from IRCTC website is completely false,user credentials are absolutely safe on IRCTC website @RailMinIndia @sureshpprabhu

— IRCTC Ltd. (@IRCTC_Ltd) May 7, 2016
The said "leaked data" doesn't match IRCTC's database. Have faith on the govt. machinery @RailMinIndia @sureshpprabhu

— IRCTC Ltd. (@IRCTC_Ltd) May 7, 2016

[1 lakh = 100,000 | 1 crore = 10 million | 100 crore = 1 billion]