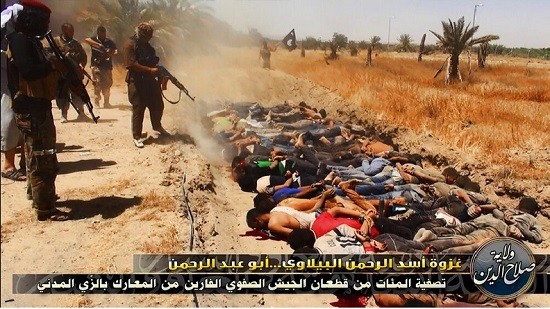 The Iraqi central criminal court on Wednesday sentenced 24 Islamic State (Isis) militants to death by hanging over the killing of hundreds of Shia soldiers in a former US army base in Tikrit in 2014.
The mass killing of the Iraqi soldiers was dubbed as the Speicher massacre after the military academy in Salahuddin Province, where the executions took place. The graves of the victims were exhumed this year, after the Iraqi forces expelled Isis from Saddam Hussein's home town Tikrit in April.
About 1,700, mainly Shi'ite soldiers, were executed at Camp Speicher when the militant outfit took over the region last year, according to Reuters.
Isis after taking over Camp Speicher, posted several graphic images and videos showing the mass killing of the Shia soldiers, who were forced to lie face-down in a shallow ditch, before they were shot dead by Isis fighters. At least 60 images of the Tikrit massacre were posted in June 2014 by Isis on Twitter alone.
Iraq is still actively looking for another 604 suspects, who are said to be on the run.