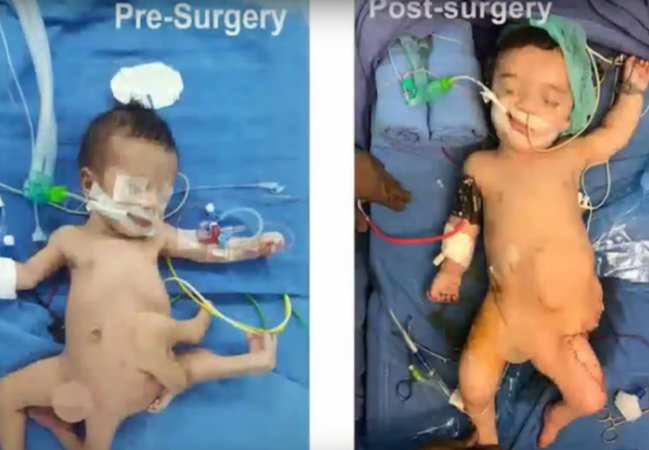 A seven-month-old Iraqi baby boy, who was born with eight limbs, has been successfully operated on by surgeons at the Jaypee Hospital, located in Noida, India.
Also Read: Men with more grey hair could be more prone to heart diseases
The infant was born with extra hands and legs, two of which were attached to his abdomen; the surgeons removed the extra limbs in a three-stage operation.
The boy, Karam, suffered from a rare condition called polymelia, also known as hydra syndrome. In Greek, the term 'polymelia' stands for -- many limbs.
This disorder is a birth defect that occurs during embryonic development and impacts one in a million babies. Successful operations to treat this syndrome are not very common, Dr Abhishek, consultant pediatric surgeon at Jaypee Hospital in Noida told the Times of India.
"The embryo starts developing in the uterus into conjoined twins, but one twin degenerates completely because of some genetic change, leaving behind extra limbs. In this case, apart from the limbs, the child also had another small intestine and three testes that had to be removed surgically," Dr Abhishek added.
Apart from the extra limbs, the baby also had extra-small intestines that were also operated on. He also had three testes, the extra one was surgically removed. The baby also suffered with a crooked back, an underdeveloped leg, and problems with his cardiovascular system.
Karam was admitted in Noida's Jaypee Hospital when he was just two weeks old and his condition was critical. He was brought to India from Iraq. His father, Sarmad Ahmed, knew the operation Karam would undergo would be rare and complex, but he had made up his mind to get it done.
"Our team of experts observed the baby, and after considering the risk factors, it was decided to conduct surgeries in multiple stages," Dr Gourav Rathore, a senior consultant at the hospital, told rt.com.
In the three-stage surgery, the first stage was conducted in August and lasted six hours; in this surgery the two limbs bulging from the infant's abdomen were surgically removed, and the extra small intestine was operated upon.
The next surgery was carried out in December, when Karam was three-months-old in which his cardiovascular defect was operated on by the doctors.
The third surgery was carried out last week, it lasted for eight hours in which Karam's extra legs were removed. The underdeveloped leg was operated on and made normal with the help of muscles taken from the limbs removed.
"Like any other normal kid, Karam also has two legs now," said Dr Rathore.
But Karam will have to undergo more surgeries in the next six months in order to cure the abnormality in his cardiovascular system, diagnosed as Corrected Transposition of Great Arteries (CGTA).
"In CGTA, the heart's formation is completely opposite to the natural biological formation. Correcting this anomaly is a challenging task but I am confident Karam will brave through it too," the doctors hoped.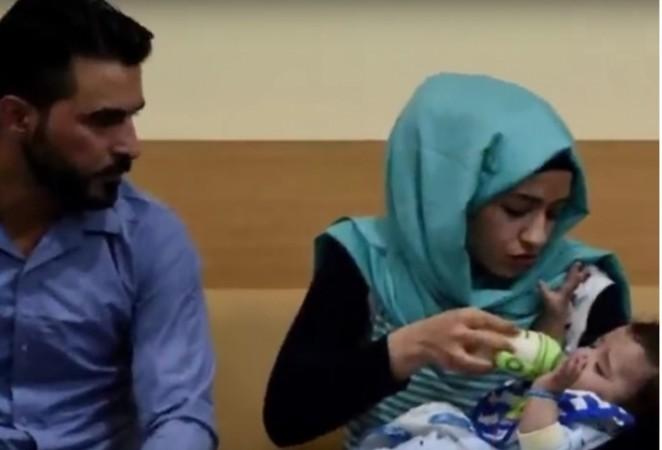 Karam's parents are very happy with the results of the life-saving operations conducted by doctors from Noida's Jaypee Hospital.
"We are now hopeful of giving him a normal life like any other child," said his mother, Gufran, who wants Karam to become an engineer, told TOI.
Iraqi baby boy undergoes a successful rare surgery: